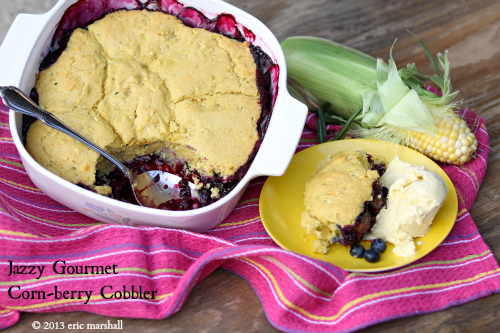 It's not too often that I get to cook for my in-laws.
Two weeks ago, S.O.'s brother Eric (who lives a few hours away) brought their mother up here for a visit.  I fixed a summer harvest feast of a supper:  Caribbean jerk pork burger sliders with mini pretzel buns, my Mediterranean Green Bean Salad, corn on the cob (cooked without shucking!), some of my Summer Harvest Veggiecakes, Edamame Hummus in Phyllo Cups and a cucumber salad.  I enjoy cooking for Eric, because he is an adventurous eater.  He asked me if I had any experiments in the works.   "As a matter of fact", I replied, "there is some blueberry zucchini sweet corn cobbler in the oven as we speak".
 He didn't bat an eye.
Upon consumption of the the feast, I had a eureka moment.  Ya see, Eric is a professional photographer, and I had a new creation in the oven, just waiting for someone to take its picture!  How lucky was I?  I can't tell you the numerous hours that I and S.O. have toiled over taking my food pictures.  Any foodie blogger will tell you that the situation is never pretty.  For example:
Ice cream season comes when it's 95˚, so it's literally scoop and shoot before it becomes a puddle.
Natural light is best, but Indiana has maybe 10 sunny days all winter.
There's nothing worse than pulling a fabulous dish from the oven, and even though you're starving, you must get that perfect shot first!  It's agonizing.
So, totally taking advantage of Eric's photographic expertise (and gratefully full belly), I coerced him into shooting my Corn-berry Cobbler.  I was tickled pink.  I was giddy with excitement.  And I loved every minute of it while HE chose the props, HE found the location, HE knew just what settings to choose on the camera since the sun was setting quickly.  What a total delight the whole experience was.
Later, we dug into that cobbler and I scooped up a big hunk of my Fresh Blueberry Sweet Corn Ice Cream on top.  As usual, we analyzed and shared opinions on the taste, texture, berries to corn ratio, etc.  It was deemed a success.
BTW, have you ever wanted to know the difference between a cobbler and a crumble?  A crumble and a crisp?  A crisp and a buckle?   Ann over at The Fountain Avenue Kitchen has a very thorough explanation here.
For more info on Eric's photography, visit his website: Clique Creative.
So what's your favorite cobbler?
Corn-berry Cobbler
A moist zucchini cornbread topping covers a vibrant blueberry filling that includes a secret ingredient (corn!), in this modernized twist on a classic dessert.
Inspired by Michael Symon's
Cast-Iron Blueberry Cobbler
Ingredients
Filling:

3 cups fresh (or frozen and thawed) blueberries
1 cup fresh (or frozen and thawed) corn kernels
3-4 tablespoons firmly packed brown sugar (depending on the sweetness of the berries)
1 tablespoon all-purpose flour
½ teaspoon freshly grated lemon zest
1 tablespoon lemon juice

Topping:

¾ cup all-purpose flour
½ cup cornmeal
1¼ teaspoons baking powder
½ teaspoon baking soda
pinch salt
1 egg, lightly beaten
⅓ cup milk
2 tablespoons melted butter, cooled to room temperature
2 tablespoons brown sugar
1 cup shredded zucchini
1 teaspoon coarse sugar
Instructions
Preheat oven to 375°F.
For the filling, combine berries, corn, 3-4 tablespoons brown sugar, 1 tablespoon flour, lemon zest and lemon juice in a large bowl. Transfer to a 9-inch baking dish.
For the topping, whisk ¾ cup flour, cornmeal, baking powder, baking soda and salt in a large bowl until well blended. In a small bowl, whisk together egg, milk, butter and 2 tablespoons brown sugar. Add the wet ingredients to the dry and stir to blend. Fold in zucchini.
Spoon the dough on top of the berry/corn mixture and bake in a 375°F oven for 35 to 45 minutes, until a toothpick inserted into the center comes out clean. Let cool for a few minutes before serving. Best served with Fresh Blueberry Sweet Corn Ice Cream!
Notes
Recipe by Jazzy Gourmet Cooking Studio at http://jazzygourmetblog.com
© 2013 Sherry Klinedinst
All rights reserved. Repost with permission only.
Watch video here:
Can't see video?  Watch it here: Corn-berry Cobbler
Linked to these fabulous parties.
Featured here:
Join Sherry K – Jazzy Gourmet on Facebook, Pinterest, Twitter
Mom always said it is nice to share!