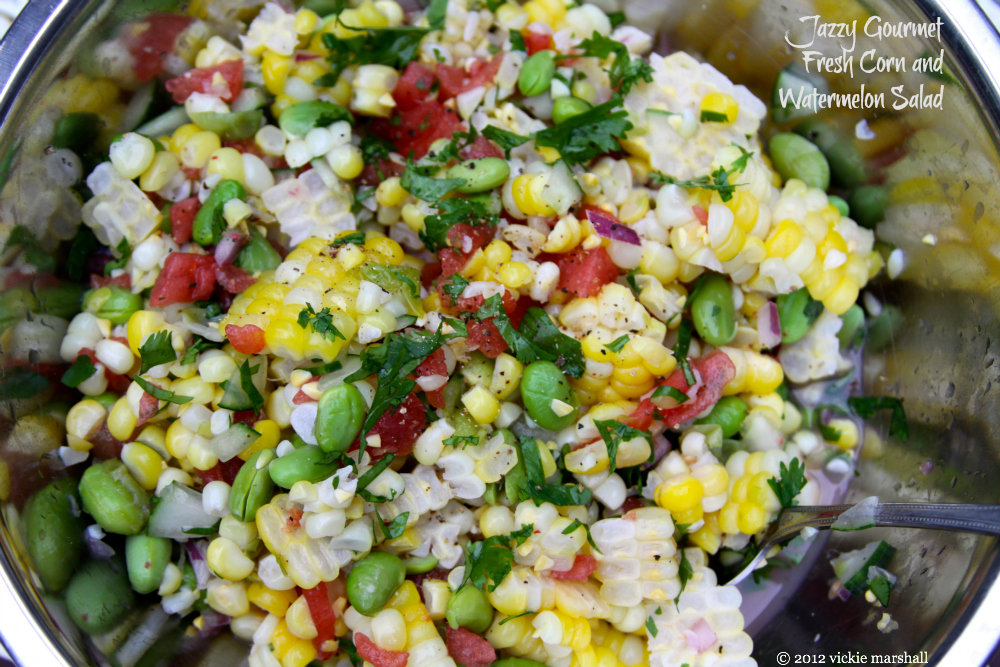 For years and years, my dad has always put out the best garden.
As he toils and fusses over every square inch, the end result is a bountiful plot of land, brimming with the best veggies and fruits from the finest Indiana soil.  And even with a bad back and record breaking drought conditions this year, Dad didn't disappoint.  
His zucchini have been known to reach baseball bat status (see my Blueberry Lemon Zucchini Bundt Cake video), and the tomatoes, green beans and cucumbers grow aplenty.  But it's the bi-color sweet corn and watermelon that reign supreme for me.  
Admittedly, I've never had the two together before…
until now.
I remember the ever-present bowl of cucumber/onion salad that Dad used to keep pickling in the fridge.  So I set out to create that fresh clean flavor in a salad with a bit of a sweeter composition.  It's crisp, it's bright, and goes well with any grilled summer fare.  
The important part of the process is to let the salad marinate for a few hours, stirring occasionally to get all the veggies a chance to swim in the juice.  
What's your prize harvest from the garden?  
Fresh Corn and Watermelon Salad
Fresh corn, watermelon, edamame and the punch of lime make this salad crisp, bright and the perfect complement to grilled summer fare.
Ingredients
2 tablespoons red wine vinegar
2 tablespoons honey
2 tablespoons fresh lime juice
2 cups fresh corn off the cob, cooked
1½ cups diced watermelon
⅔ cup shelled edamame, cooked in salted water
⅓ cup finely diced cucumber, peeled and seeded
1 tablespoon finely diced red onion
1 heaping tablespoon chopped fresh cilantro
salt and freshly cracked pepper to taste
Instructions
Stir together vinegar, honey and lime juice in a medium bowl. Add corn, watermelon, edamame, cucumber, onion and cilantro. Stir to combine. Add salt and pepper to taste. Let marinate in fridge for a few hours, stirring occasionally to allow all the veggies a chance to swim in the juice.