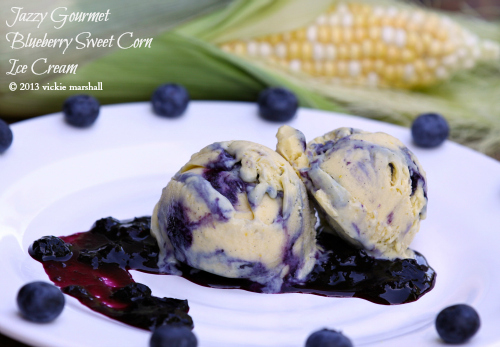 I entertained a lovely group of nice young ladies (grades 5-9) at a fine arts camp this week, and at the end of my presentation, one of them asked how long it takes me to compose a piece of music.
I said it varies.
Sometimes I am walking the dogs when an idea hits; and when I get home, I sit down at the piano and crank out a whole composition in an hour or two.  Other times though, it takes a little more elbow grease to complete the task.  I'll leave it after an hour or 2 and come back to it another time when my mind is more fresh.
The same thing happens with recipe writing, I believe.  An idea pops into my head with ease, but the desired execution may linger for a while.  I'll make a "flop", and then stew over it until I come up with a solution.  (And when it comes to ice cream, I have a couple of days to stew, because it takes 24 hours for my ice cream canister to re-freeze.)
So, along came Fresh Blueberry Buttered Sweet Corn Ice Cream in my head last year, and I gave it a whirl.  The first batch was, well, I don't even need to talk about it, ha!   It was the end of summer, so I plopped in the back of my head for winter storage.  But then along came blueberry/sweet corn season, and I needed to seize the moment!
This year's batch 1 went to my friend Liz (as in Liz and Larry who tested my Orange Cardamom Pistachio Ice Cream).  It was determined that it tasted okay, but there was a funny "lard on the top of your mouth feel".  Can't have that!
I figured butter was the culprit.  So I looked around the Google world to see if anybody else had used butter in ice cream before.  There was nary to be found.  I did find one with clarified butter, but I really didn't want to go to the trouble.  Then it dawned on me — butter is nothing but churned cream anyway, so why add it when there is cream in the recipe already?  It's really the salt that adds "buttery" flavor, so why not just add salt?
Ahh, my quest was complete.
Let the scooping begin.
Fresh Blueberry Sweet Corn Ice Cream
Tangy plump blueberries and sweet tender corn (fresh from the cob) pair nicely in this creamy, dreamy ice cream.
Inspired by David Lebovitz's
Vanilla Ice Cream
Ingredients
1 large fresh* ear of corn
2 cups milk, divided
1 cup heavy cream
½ teaspoon kosher salt
½ cup + 3 tablespoons granulated sugar, divided
½ of a vanilla bean, split lengthwise
4 egg yolks
⅔ cup fresh blueberries
1 teaspoon cornstarch
1 teaspoon Limoncello (Adding alcohol to fruit keeps it from getting too hard when frozen, but you can use fresh lemon juice instead, if you prefer.)
Instructions
To make the base, cut corn from the cob and reserve 1 cup kernels and the cob. In a medium heavy saucepan, combine the corn, 1 cup milk, cream, salt and ¼ cup sugar. Bring to a simmer and cook for 10 minutes. Remove from heat and drop in the corn cob and vanilla bean. Cover, and infuse for 30-60 minutes.
Remove the cob and vanilla bean. Scrape the seeds from the vanilla bean into the milk mixture with a paring knife.
In a small bowl, whisk together egg yolks and ¼ cup sugar.
Prepare an ice bath in a large bowl. Position a fine mesh sieve over a medium bowl with a spout and place in the ice bath.
Pour milk mixture into a blender and blend until smooth. Pour back into the saucepan. Rewarm it and whisk about ⅓ of it into the egg yolks. Put the yolks into the saucepan and cook over medium-low heat, stirring constantly with a wooden spoon, until the custard thickens enough to coat the back of the spoon.
Strain the custard through the sieve into the bowl with a pouring spout, pressing to separate the liquid from the corn solids. Add the remaining 1 cup milk and stir until chilled. Cover and refrigerate until very cold (overnight if possible).
To make the blueberry sauce, place blueberries, remaining 3 tablespoons sugar, cornstarch and Limoncello in a small heavy saucepan. Bring mixture to a boil, reduce heat, and cook until thickened, about 5 minutes. Refrigerate until ready to use.
When ice cream base has chilled, churn in ice cream maker, according to manufacturer's instructions.
Layer the ice cream and blueberries in a sealed container, swirling the blueberry sauce into the ice cream, and freeze to bloom for at least 3 hours. Just before serving, remove from freezer and allow to rest 5-10 minutes before scooping into bowls.
Makes about 1 quart
Notes
*The fresher the corn, the sweeter the taste!

Recipe by Jazzy Gourmet Cooking Studio at http://jazzygourmetblog.com
© 2013 Sherry Klinedinst
All rights reserved. Repost with permission only.
Watch video here:
Can't see video?  Watch it here: Fresh Blueberry Sweet Corn Ice Cream
Linked to these fabulous parties.
Featured here:
Join Sherry K – Jazzy Gourmet on Facebook, Pinterest, Twitter
Mom always said it is nice to share!