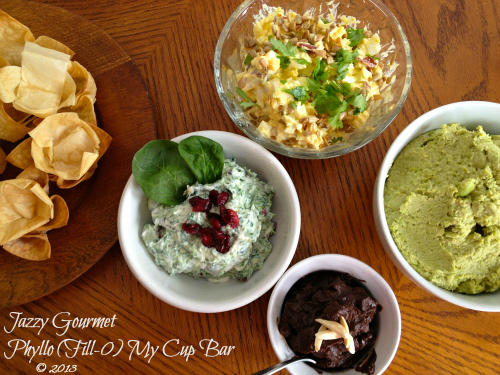 The other night, we had our friend Michelle over for a VERY important basketball game.  Ya see, Indiana University was playing Michigan State, and it was a HUGE match-up, since they are 1 and 2 in the Big 10, respectively.  More importantly, my S.O. and I are IU alums, and Michelle graduated from Michigan State, so ONE of us was bound to be unhappy at the end of the night!
 At first, we weren't so sure it was such a good idea to have a Spartan in a diehard Hoosier household.  We warned her that our spectator tendencies lean toward, shall we say, BOISTEROUS during IU games.  So we couldn't guarantee that there wouldn't be a little trash talk strewn about throughout the evening. Brave soul that she is though, Michelle arrived with guacamole and chips in hand, so we had to let her in the house, right?
So here we sat, each clad in our school's finest regalia, snarfing down snacks and watching from the edge of our seats, as the action on the big screen unfolded.
 What were we snarfing, you ask? (Because you KNOW we take our snacking as seriously as our basketball!)
Well, amongst other things, I decided to create a "fill-o-cup bar".  Starting with baked Phyllo pastry cups, we could choose from 4 different savory and sweet fillings on the "cup bar" (pictured clockwise from left):
Egg Salad (I usually make egg salad out of whatever I have in the fridge–so see recipe below)
Chocolate Lime Truffle Ganache
As for the Phyllo cups, pre-formed ones can be purchased at any grocery store. Or, they can be made from Phyllo sheets, such as the ones I make for my Cherry Lime Truffle Cups.  When Em Fairley of Chester, England read about these cups, she reminded me that they can be formed by placing the Phyllo sections on an inverted muffin pan, thus making them a bigger vessel in which to add filling.  She says the same technique works for cookie or pie dough as well.  Something to think about!  (Check out her greeting card blog here:  Em Cards' Em's Designer Journal)
All in all, it was a great night.  Great company.  Great food.  Great game.
Oh, and I nearly forgot:  Who won the game?  Let's just say the ol' Cream and Crimson held their own that night.  And no, we didn't rub it in either.  Maybe it was out of respect for Michelle, or maybe because our mouths were too full, ha!
How would you fill-o your cup?
Game Winning Egg Salad
Ingredients
5 hard-cooked eggs, peeled and chopped
½ cup light mayo
¼ cup shredded smoked cheddar cheese
¼ cup sliced green olives
2 tablespoons minced red onion
2 tablespoons chopped cilantro
2 tablespoons roasted and salted sunflower seeds
Instructions
Throw everything except sunflower seeds into a medium bowl and combine. Just before serving, top with sunflower seeds.
Join Sherry K – Jazzy Gourmet on Facebook, Pinterest, Twitter
Mom always said it is nice to share!