With Cranberry Whiskey Sauce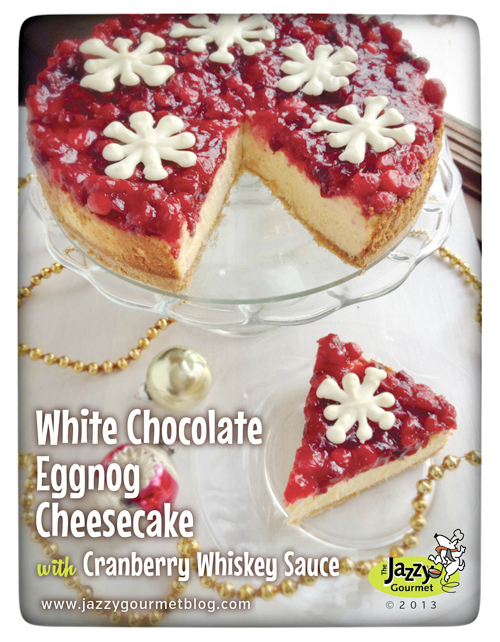 I'm not sure there's anything that screams Christmas more than eggnog and cranberries.  And when combined in a creamy cheesecake with a little zip of whiskey, I say let the festive season begin!
My White Chocolate Eggnog Cheesecake with Cranberry Whiskey Sauce is not only simple to make (really!), but it looks so stinkin' impressive as the centerpiece to any Christmas table.  And when white chocolate snowflakes are added, guests will be ho ho ho-ing and rum pa pum pumm-ing their way through every bite.
No kidding.
And if you want a little tutelage on how to make the snowflakes (as well as other white chocolate garnish ideas), just visit my episode of I'm Dreaming of a White Chocolate Christmas.  It's really quite amazing how much a white chocolate garnish can add a certain elegance to any dessert.   Plus, I did go a bit tart on the sauce itself, so if you want a sweeter flavor, I'd say go liberal with the white chocolate garnish.
White Chocolate Eggnog Cheesecake
Smooth and creamy white chocolate eggnog cheesecake is topped with a bright and tangy cranberry whiskey sauce for a stunning Christmas dessert centerpiece.
Ingredients
Crust:
1 cup graham cracker crumbs (about 16 squares)
3 tablespoons granulated sugar
4 tablespoons butter, melted
White Chocolate Eggnog Filling
4 packages (8 ounces each) cream cheese, softened
½ cup granulated sugar
3 tablespoons all-purpose flour
4 eggs, lightly beaten
1 cup eggnog
1 tablespoon vanilla extract
¼ teaspoon nutmeg
8 ounces white baking chocolate, melted and cooled
Cranberry Whiskey Sauce:
4 cups fresh cranberries
1½ tablespoons cornstarch
¾ cup granulated sugar
2 tablespoons whiskey
¼ cup water
Additional white chocolate for garnish
Instructions
Preheat oven to 325°
In a small bowl, combine graham cracker crumbs and 3 tablespoons sugar; stir in butter. Press onto the bottom of a greased 9-inch springform pan. Place pan on a baking sheet, and bake at 325° for 10 minutes. Cool on a wire rack.
In a large bowl, blend cream cheese and ½ cup sugar until smooth. Add flour and beat well. Add eggs, and beat on low just until combined. Add eggnog, vanilla, nutmeg and white chocolate; beat just until blended. Pour over crust. Return pan to baking sheet, and bake at 325° for 60-70 minutes or until center is almost set. Cool on a wire rack for 10 minutes. Carefully run a knife around the edge of the pan to loosen and cool 1 hour longer.
In the meantime, combine cranberries, cornstarch, ¾ cup sugar, whiskey and water in a medium saucepan and bring to a boil. Stirring occasionally, cook for about 5 minutes or until mixture starts to thicken. Remove from heat and set aside to cool.
Spoon cranberry sauce over the top of the cheesecake and refrigerate until ready to serve. Remove sides of pan from cheesecake and garnish with white chocolate. Refrigerate leftovers.
Notes
Recipe by Jazzy Gourmet Cooking Studio at http://jazzygourmetblog.com
© 2013 Sherry Klinedinst
All rights reserved. Repost with permission only.
Watch video here:
Can't see video?  Watch it here: White Chocolate Eggnog Cheesecake
Linked to these fabulous parties.
Join Sherry K – Jazzy Gourmet on Facebook, Pinterest, Twitter
Mom always said it is nice to share!