It's Zippy Tip Tuesday!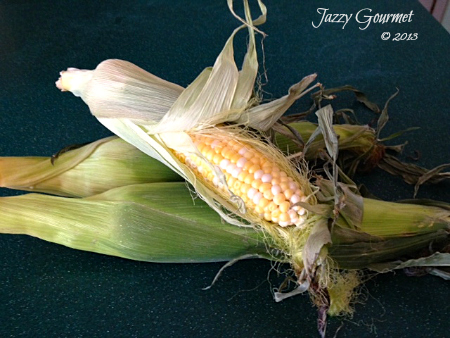 I've been hearing a lot about a (not so) new method of cooking sweet corn.
A friend of mine sent me this video a couple of years ago:  Shucking Corn-Clean Ears Every Time.  It shows a gentleman who demonstrates cooking the corn, in the husk, in the microwave.
I have to admit that I watched it, but went back to my old tried and true method of shucking and boiling.  But the more I thought about it, the more I thought it might be worth a try.  I'm not crazy about shucking, as messy and tedious as it is.  I usually perform the unpleasant task out in the garage over the trash can, but it's always sweltering out there.  And speaking of getting hot, sometimes I forget to set the pot to boil before I start shucking, so then it feels like an hour before it's boiling.
And then why boil?  I mean, I don't boil my other veggies, just to have the best taste/nutrients/color tossed out with the water.  So why boil my corn?  So when this corn season rolled around, I gave it a shot.  And might I say that I will never shuck the traditional way again!
Watch video here:
Can't see video?  Watch it here:  Cook Sweet Corn without Shucking.
Linked to these fabulous parties.
Featured here:
Join Sherry K – Jazzy Gourmet on Facebook, Pinterest, Twitter
Mom always said it is nice to share!