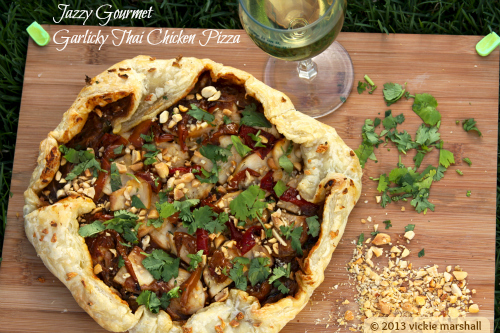 It is of my belief that all good savory recipes start out with garlic (and onions, for that matter).  I don't know, it's like if the kitchen doesn't wreak when I'm done cooking, I just haven't accomplished my job properly.
Ya know what I mean?
As my good friends can attest from the state of my breath most of the time (Is that why they keep offering me gum?), it is a definite mainstay in my diet.  Unfortunately, my S.O. doesn't feel as thrilled about the aroma in the house as I do, and will immediately break out the Fabreze air freshener once the smell hits the air.  Oh great, then we have flowery fruity garlic all over the place!
Now I'm aware that there are some who like to use garlic in sweet applications too (ice cream?), but I just can't seem to get into it. In fact, if my blueberry bagel from Panera has been sitting in a bin next to an everything bagel, and a little piece of garlic sticks to my bagel, I do get a little bent out of shape.
When I came across an archive of this recipe that I had entered in the Gilroy Garlic Festival contest a few years back, I knew it was time to bust out some serious cloves.  My Garlicky Thai Chicken Pizza is packed with flavor.  Tender slices of chicken and garlic, crunchy bean sprouts and onions, and sweet peppers are bathing in a quick Thai style peanut sauce. Then as if 4 cloves aren't enough in the filling, more garlic is placed on top of the puff pastry crust to create a garlic studded extravaganza!
Are you a garlic nut like I am?  If so, you might like my Garlicky Shrimp and Spinach Cornbread too!
Garlicky Thai Chicken Pizza
Tender slices of chicken, crunchy bean sprouts and sweet peppers in a Thai peanut sauce are placed on top of a garlic studded puff pastry crust.
Ingredients
½ of a 17.3-ounce package Puff Pastry Sheets (1 sheet)
3 teaspoons olive oil, divided
10 ounces fresh rinsed bean sprouts
4 green onions, sliced
4 garlic cloves, sliced
1 tablespoon fresh lime juice
2 tablespoons reduced sodium soy sauce
⅓ cup creamy peanut butter
2 tablespoons Asian sweet chili sauce
1 (6-ounce) roasted skinless boneless chicken breast, sliced
¼ cup sliced roasted peppers
1 garlic clove, minced
¼ cup chopped fresh cilantro
¼ cup chopped peanuts
Instructions
Thaw the pastry sheet at room temperature for 40 minutes or until it's easy to handle. Heat the oven to 425 degrees F.
Heat 2 teaspoons of oil in a large skillet over medium high heat. Add bean sprouts, onions and sliced garlic and cook for 2 minutes, stirring frequently. Add lime juice and soy sauce and continue to cook until vegetables are crisp tender, another 1 or 2 minutes. Remove from heat and stir in peanut butter and chili sauce.
Unfold the pastry sheet and place on a parchment lined cookie sheet. Roll it out a bit to make it a little thinner. Place the garlic/vegetable mixture in the center of the dough, leaving a 2-inch flap of dough around the edge. Top mixture with chicken slices and peppers. Fold the flap of dough onto the chicken, forming a rustic, uneven rim around the pizza. Brush remaining teaspoon of oil onto the edge of the crust and top with minced garlic clove. Bake at 425 degrees F. for 15 to 20 minutes, until light golden brown. Remove from the oven, top with cilantro and peanuts, and cut into 6 wedges.
Makes 6 appetizers
Notes
Recipe by Jazzy Gourmet Cooking Studio at http://jazzygourmetblog.com
© 2013 Sherry Klinedinst
All rights reserved. Repost with permission only.
Watch video here:
Can't see video?  Watch it here:  Garlicky Thai Chicken Pizza
Linked to these fabulous parties.
Featured here: