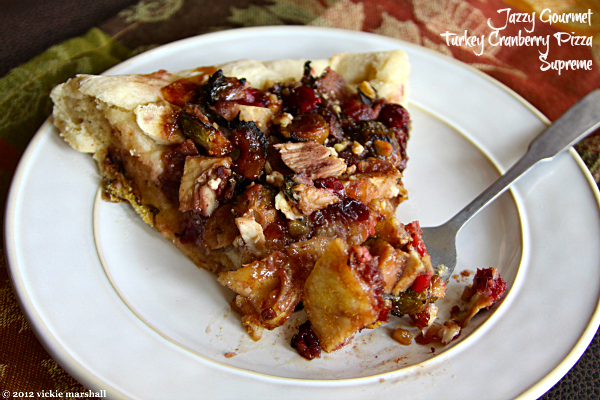 I'm thankful for so many things.
Every morning when I wake up, I am thankful for my bright, comfortable, spacious home.  I am thankful for the two goofy pups that bring me so much joy.  I'm thankful for employment, health and the best family and friends that a person could ask for.  And I'm thankful for a God Who listens to me grumble and groan about what I DON'T have and loves me anyway.
  I am so blessed.
And I'm thankful for a holiday that reminds me to remember that.
Speaking of Thanksgiving, does anybody have any leftover turkey?  How about cranberries or brussels sprouts?  I think I can help you out there…
Turkey Cranberry Pizza Supreme
Ingredients
4 slices bacon, diced
½ cup chopped onion
1 garlic clove, minced
1¼ cups red wine vinegar
¾ cup honey
1½ cups fresh cranberries
2 cups brussels sprout halves, cooked and seasoned with salt (If you want to roast your brussels sprouts, watch my episode of Roasted Brussels Sprouts)
2 tablespoons plus 2 teaspoons cornmeal
dough for a 12" pizza (see recipe below for homemade crust)
2 cups bite-sized cooked turkey slices
⅓ cup crumbled feta cheese
⅓ cup coarsely chopped walnuts, toasted
Instructions
In a large skillet, cook bacon until crisp. Remove with a slotted spoon and place on a a paper towel. Add onion to skillet and cook for a few minutes, until softened. Add garlic and cook for one minute. Stir in vinegar, honey and cranberries. Bring to a boil and cook until sauce is reduced and slightly thick and syrup-y, about 15-20 minutes. Add brussels sprouts and toss to coat. Remove from heat and set aside.
Preheat a baking stone at 450˚ in the oven and dust with 2 teaspoons cornmeal. Dust a pizza peel with 2 tablespoons cornmeal. Shape pizza dough to form crust and place on pizza peel. Add turkey and the cranberry mixture. Top with feta cheese, walnuts and bacon. Bake at 450˚ for 10-15 minutes, or until crust is golden brown and toppings are caramelized. Cut into slices and serve.
Notes
Homemade Pizza Dough
(click to see video
here
)
¾ teaspoon active dry yeast
1 teaspoon sugar
1 cup warm water (105˚-110˚)
15 ounces bread flour
1½ teaspoons salt
1 tablespoon vegetable oil
In a large bowl, dissolve yeast and sugar in the water. Let set for 10 minutes. Mix in flour, then salt.
Turn dough out onto a floured surface and knead for 5 minutes. Coat interior of a large bowl with the oil. Place dough in the bowl. Flip dough over and cover with a clean, moist towel. Put in a warm place until dough has doubled in size, about an hour. Punch down dough and allow it to relax for 15 minutes. Roll or toss dough to form pizza crust.
Watch video here:
Can't see video?  Watch it here:  Turkey Cranberry Pizza Supreme
Linked to these fabulous parties.
Featured here:
Join Sherry K – Jazzy Gourmet on Facebook, Pinterest, Twitter
Mom always said it is nice to share!