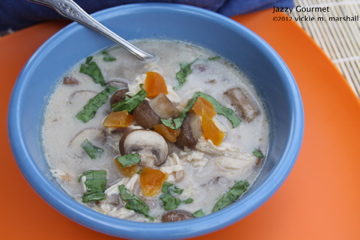 I love soup, but I'm not crazy about the canned variety.  Most commercial brands leave me parched from the enormous salt content (Who needs more water retention?!), while the "healthy" ones are pretty darned tasteless, if you ask me.  I've tried combining the two, but something was still lacking–freshness, maybe?  Yeah, that's it.  So during the winter, I buy a rotisserie chicken or smoked piece of meat almost every week and make stock with the bones.  Then I turn that stock into a different soup.  Lately, I had a hankering to make my version of Tom Kha Gai soup that I often get at my favorite Thai restaurant.  Of course, that meant making a stop at my favorite Asian market (shucks)!  I love that place.  We have one that is so busy on Friday, they have to direct traffic in the parking lot!
After I made the soup, my S.O. put in an order for a second batch, which I promptly filled.  That time, I decided to do a video on the process of making the soup; but later I made the ghastly discovery that during a portion of the video, the camera was off when I thought it was on, and vice versa!  So you know what that meant–batch #3!  (Video is below)


Thai Ginger Coconut Chicken Soup
This jazzed up chicken soup is made with ginger, coconut milk, lemongrass and other Thai flavors. Now you can jazz up your soup too!
Ingredients
2 cups coconut milk
1 stalk fresh lemongrass, trimmed, smashed, and cut into 2-inch pieces
6-8 slices fresh ginger
2 cups cooked chicken, diced
1 cup sliced mushrooms (such as shiitake, button, etc)
⅓ cup diced apricots
1 tablespoon Sriracha sauce (or any spicy chili sauce)
1 tablespoon agave nectar (found next to sugar in the supermarket)
2 tablespoons fish sauce (this and Sriracha found in Asian aisle)
2 tablespoons freshly squeezed lime juice
Salt and pepper to taste
¼ cup sliced green onions
¼ cup chopped fresh cilantro leaves
Instructions
Combine the chicken stock and coconut milk in a large pot. Add the lemongrass and ginger and simmer over medium heat for 15 minutes. Fish out the lemongrass and ginger and add chicken, mushrooms and apricots. Cook for another 5 minutes or so, until mushrooms and apricots have softened.
Turn off the heat and stir in the Sriracha, agave nectar, fish sauce, and lime juice. Add salt and pepper to taste. Garnish with green onions and cilantro and serve.
Notes
Recipe by Jazzy Gourmet Cooking Studio at http://jazzygourmetblog.com
© 2012 Sherry Klinedinst
All rights reserved. Repost with permission only.
Watch video here:
Having troubles seeing the video?  Watch it here:  Thai Ginger Coconut Chicken Soup
Linked to some of these 
fabulous parties
.
Join Sherry K – Jazzy Gourmet on Facebook, Pinterest, Twitter
Mom always said it is nice to share!