It's Zippy Tip Tuesday!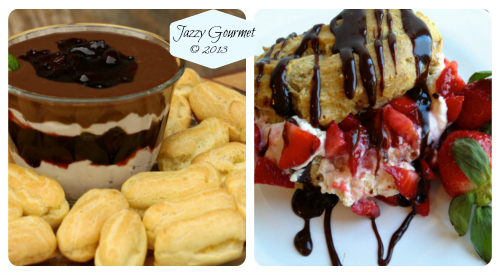 A few months ago, my S.O. and I had a rather humorous conversation involving the word "profiteroles" .  I was making a batch one evening; and well, I guess you could say there was a wee bit of some miscommunication!  To read about it, click here:  Chocolate Covered Strawberry Profiteroles.
It's amazing to me that I have always admired the grandeur and impressive presentation of profiteroles (or cream puffs/eclairs, as more commonly known), and somehow assumed that they must be a most difficult pastry to make.
Wrong!
That couldn't be further from the truth.  The process is not only simple, but it only takes a few minutes of prep time to make them.  The result is a splendid pastry cavern to fill with everything from fruit and cream to egg salad or roast beef.  It is even possible to make a miniature version to use as a dipping implement, like the Profiterole Dunkin' Sticks in my Chocolate Covered Cherry Lime Dip .
Want to see how it's done? Watch the video below.  And if you want a basic profiterole recipe, just click on either of the recipe title links above in this post.
Watch video here:
Can't see video?  Watch it here:  Make Your Own Profiteroles
Join Sherry K – Jazzy Gourmet on Facebook, Pinterest, Twitter
Mom always said it is nice to share!