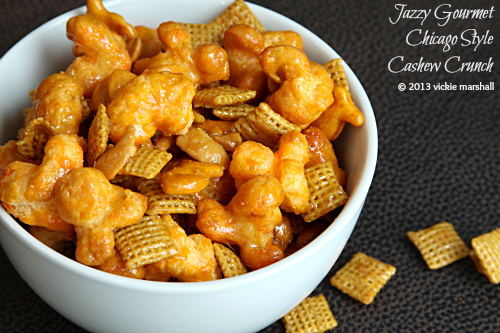 Any Chicago peeps out there know that the place to go for popcorn in the Windy City is Garrett's Popcorn Shop.
If you're in the city and don't know where it's located, all you have to do is stick your whiffer in the air and the wafting aroma of freshly popped corn will lead your way.  Then as you approach the shop, you know you're in the right place when you see the ever-present line of loyal fans that eternally stretches outside the door and down the sidewalk.
Without a doubt, my favorite flavor combo is the caramel/cheese mix.  There's no mistaking that you've just devoured a bag of the stuff when you walk down the street with tell-tale bright orange fingers.  Everybody who passes by acknowledges the dead giveaway and greets you with a nod of recognition and envy.
Well back on the home front, there's a woman at my church who makes a caramel corn recipe that doesn't use popcorn at all, but corn puffs instead.  People scramble to get to them when she brings a batch to church functions.  I oohed and ahhed over them so much that she finally gave me the recipe. I thought it was funny that the recipe said to use butter flavored corn puffs and explicitly said "NOT cheese flavored".  Of course, that was just a big ol' invitation to use cheese puffs instead!
So consider this recipe to be inspired by not one but TWO sources:  Garrett's Popcorn and Loanna from church.
Chicago Style Cashew Crunch
Ingredients
2 cups Corn Chex cereal
1 cup cheese-flavored crackers (I use Pepperidge Farm Goldfish Flavor Blasted)
3 cups cheese-flavored corn puffs
1 cup roasted salted cashew halves
½ cup firmly packed brown sugar
½ cup light corn syrup
6 tablespoons butter
½ teaspoon baking soda
Instructions
Preheat oven to 250˚ F. Combine cereal, crackers, corn puffs and cashews in a 9x13-inch pan.
Place brown sugar, corn syrup and butter in a medium microwave-safe bowl. Microwave on high for one minute. Stir and microwave on high for an additional 1 to 1½ minutes, or until it comes to a boil. Add baking soda and combine. Pour over cereal mixture and stir to coat.
Bake in a 250˚F oven for 1 hour, stirring every 15 minutes. Remove from oven and spread onto waxed paper to cool. Break apart and enjoy!
Linked to these fabulous parties.
Join Sherry K – Jazzy Gourmet on Facebook, Pinterest, Twitter
Mom always said it is nice to share!