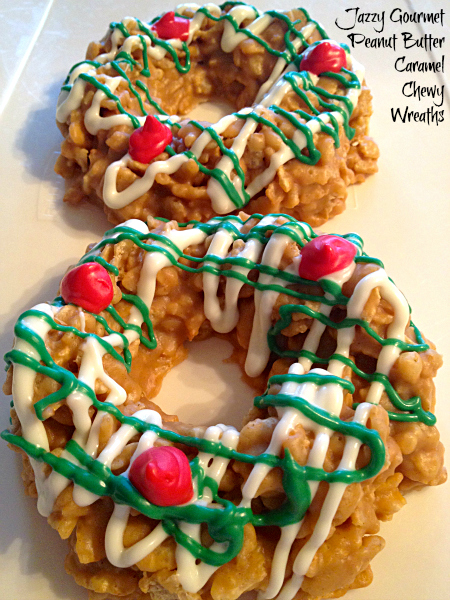 One of my very first posts was Peanut Butter Caramel Chewy Easter Egg Nests, where I took a basic 4-ingredient recipe and shaped it into a cute holiday treat.
At the time, I said I would be introducing Christmas wreaths in a few months.
My, how time has flown!
When I started the Jazzy Gourmet gift basket business a few years ago, Peanut Butter Caramel Chewies became my most popular item, regardless of its shape or size.  There's something about the crunchy Special K cereal, drenched in a peanut butter caramel that makes these puppies SO gosh darned addictive!
And the melted chocolate (or candy melts) really makes all the difference in sprucing up the wreaths. I like to pour the melted chocolate into plastic bottles, so that I can control it better than just drizzling it off of a spoon.  I start by zigzagging the white chocolate back and forth.  Then I turn the wreaths and drizzle the green from the opposite direction.  Last, I dot 3-4 red plops on top for a berry look. It couldn't be simpler!
Peanut Butter Caramel Chewy Christmas Wreaths
Instructions
Heat sugar and corn syrup in a large pan on medium high heat. Stir with a wooden spoon until mixture comes to a rolling boil. Remove from heat and stir in peanut butter. Add cereal and mix until well coated. Drop by large blobs onto wax paper and shape into wreaths. Let cool on the wax paper for about a ½ hour until wreaths are firm. Decorate with melted colored chocolate or candy melts.
Watch video here:
Linked to these fabulous parties.
Featured here:
Join Sherry K – Jazzy Gourmet on Facebook, Pinterest, Twitter
Mom always said it is nice to share!