It's Zippy Tip Tuesday!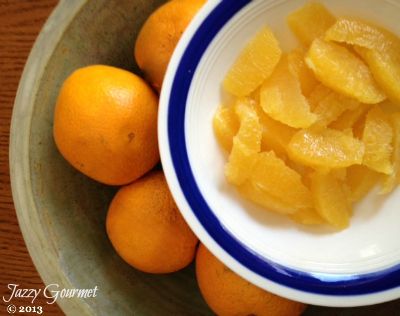 Ya know, it's a funny thing.
Whenever I buy oranges and place them in a bowl on the counter, they just seem to remain on the counter.  Now, that isn't to say that we don't enjoy eating oranges.  We love them!  But we get lazy I guess and don't seem to want to go to the trouble of peeling them.
It's the same thing with grapefruit.  The idea of cutting the grapefruit in half and spooning out the juicy fruit seems to be too much of a bother for breakfast in the morning–even when using one of those fancy citrus spoons with the serrated edge!
So the first time I made a recipe that called for orange supremes, I used what was needed and put the rest in a bowl for later.
Later?!?  What later?!?
Those puppies were lapped up faster than Gracie eating her bowl of kibble.  Gone in a flash.  Vamoosed.
So what's a supreme (no, not Diana Ross!)?  And how do you execute making one?
Watch this video and see:
Can't see video?  Watch it here:  Orange Supremes
Join Sherry K – Jazzy Gourmet on Facebook, Pinterest, Twitter
Mom always said it is nice to share!