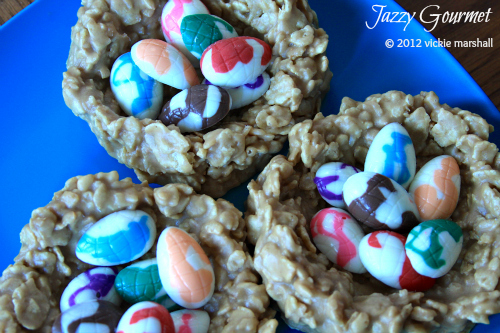 When I was in college, there was a bakery inside the Student Union that had the most amazing, addictive treats known as "Special K Chewies".  They were the best peanut buttery, caramel-y, chewy blobs of goodness that served their purpose in rewarding myself after exams, written reports, or…if I happened to be in the vicinity of the Student Union.  When I left IU, I missed my little chewies greatly, until a friend discovered the recipe in a church fundraising cookbook.  In my heart, she may as well have discovered gold.  To this day, they remain a favorite at family gatherings, and were the most popular item in my Jazzy Gourmet gift baskets.  At Easter, I turn them into Easter egg nests and at Christmas, they become wreaths.  The potential for creative expansion is endless.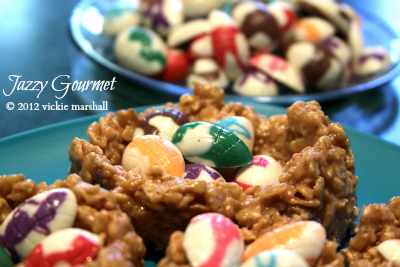 I'm sorry to say that I don't know the original author of the recipe.  If someone has this information, please let me know so that I can give that person credit!  In the meantime, have fun making these chewy blobs of goodness for yourself.  One warning though–they are truly addictive!
Peanut Butter Caramel Chewy Easter Egg Nests
Instructions
Heat sugar and corn syrup in large pan on medium high heat. Stir with wooden spoon until mixture comes to a rolling boil. Remove from heat and stir in peanut butter. Add cereal and mix until well coated. Drop by large blobs onto wax paper and shape into nests. Let cool on the wax paper for about a ½ hour until nests are firm. Fill with jelly beans or molded chocolate eggs of your choice.
Notes
Recipe by Jazzy Gourmet Cooking Studio at http://jazzygourmetblog.com
© 2012 Sherry Klinedinst
All rights reserved. Repost with permission only.
Watch video here:
Coming in a few months–Peanut Butter Caramel Chewy Christmas Wreaths!
Linked to these fabulous parties.
Join Sherry K – Jazzy Gourmet on 
Facebook
, 
Pinterest
, 
Twitter
  Mom always said it is nice to share!