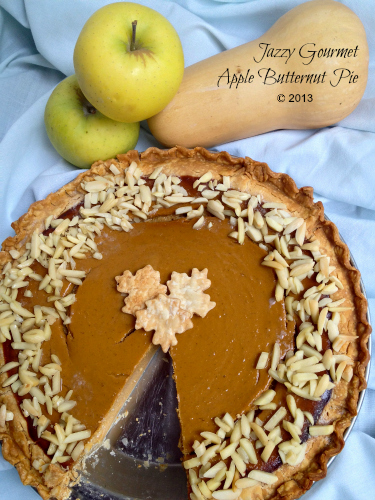 OK, so whoever is planning on making pumpkin pie for Thanksgiving, raise your hand!
OK, you can put your hand down.
Now, those of you who would like to make something similar but uniquely different and yet just as easy to prepare, raise your hand!
Well I have just the thing for you. My Apple Butternut Pie is a 3-way butter fest:
butternut squash
apple butter
buttered almonds
Actually, it's 4-way, when you consider some more butter in the crust.  And then when you throw in some Biscoff Cookie Spread, you've got the whole sh'bang.  Not familiar with Biscoff Cookie Spread?  I wasn't either until I saw it around the foodie blogging world.  I used the actual cookies in my Chocolate Pumpkin Mousse Pie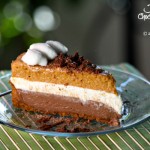 (Yet another great Thanksgiving alternative, but a bit more labor intensive)
Biscoff cookies are tasty all-natural Belgian "biscuits" that have been around for 80 years or so, and now have been turned into a sweet creamy spread.  It can be used to dunk apples or other fruit, maybe spread on toast, or my favorite method is to spoon it straight from the jar!  Want to know more?  Visit:  Biscoff.com
Anyhoo, enough about Biscoff, back to me, ha!  Dad delivered another garden care package (probably the last for the season, boo hoo), and it was loaded with butternut squash.  I've been roasting and souping and everything else with it, so I decided to turn it into a pie.  Then I had made a batch of apple butter the other day (see a link to the recipe in the "Notes" section below) and threw some of it in for spice and light freshness.  A handful of buttered almonds seemed like a good choice for crunch.  The final product came out looking very much like it's original pumpkin counterpart, but with a little extra zing, a little pizazz, a little jazz, you might say!
For my Zippy Tip on peeling butternut squash, visit:  The Easy Way to Peel Butternut Squash
Apple Butternut Pie
Sweet butternut squash, paired with apple butter and Biscoff Cookie Spread, is topped with buttery almonds to make a wonderful alternative to pumpkin pie.
Ingredients
3 eggs
2 cups butternut squash puree
1 cup apple butter*
½ cup Biscoff cookie spread
1 tablespoon fresh orange zest
1 12-ounce can evaporated milk
1 10-inch prepared pie crust, unbaked*
½ cup slivered almonds
1 tablespoon butter, melted
pinch salt
Instructions
Preheat oven to 425°F.
Whisk eggs in a large bowl. Stir in squash, apple butter, cookie spread and orange zest. Gradually stir in evaporated milk. Pour into pie shell.
Bake in preheated 425° F oven for 15 minutes. Reduce temperature to 350° F; bake for an additional 30 minutes.
Combine almonds, butter and pinch of salt. Sprinkle almonds around the outside edge of the pie, and continue to bake another 10-20 minutes, or until a knife inserted near the center comes out clean..
Allow pie to cool completely on wire rack, about 2 to 3 hours. Chill in the refrigerator until ready to serve.
Linked to these 
fabulous parties
.
Join Sherry K – Jazzy Gourmet on Facebook, Pinterest, Twitter
Mom always said it is nice to share!