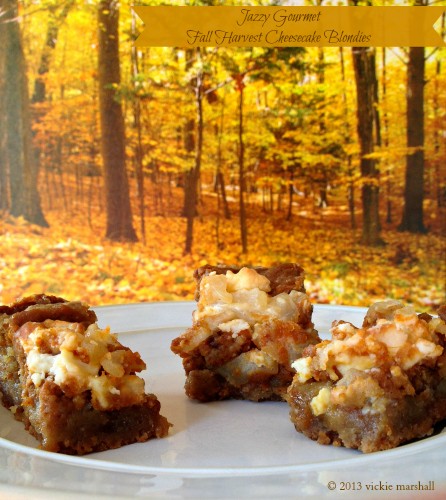 There are so many things that I like about fall.
I like that I can continue to walk the pups or work out in the yard and no longer have sweat running down every crevice.
I like that we don't have to run either the air conditioning or the heat.
I like pulling out sweatshirts that have been stacked in a closet upstairs.
  I like picking up an "autumn mix" bag of candy corn for my 95-year-old grandma (even though I don't really care for them myself).
I like driving down to Brown County (near Bloomington) to see the spectacular fall foliage.
I like purposely veering my bicycle through crunchy leaves on the road.
I like busting out my soup pot.
And I LOVE cooking with pumpkins and apples in recipes, like my PB & J Pumpkin Soup, Chocolate Pumpkin Mousse Pie, and Caramel Apple Peanut Butter Paradise.  But I have to say that I have never used the 2 ingredients together in a recipe before.  So it only made sense that when this month's Behind the Curtain Dessert Challenge ingredients were pumpkin and cream cheese, apple seemed an interesting addition.
Fall Harvest Cheesecake Blondies are a luscious dessert that has all the goodness of a rich chewy blondie, with a smooth creamy pumpkin cheesecake and fresh apple filling.
It's amazing how the best of fall can fit into an 8″ square pan!
Fall Harvest Cheesecake Blondies
This luscious dessert has all the goodness of a rich chewy blondie, with a smooth creamy pumpkin cheesecake and fresh apple filling. Now you can make it too!
Ingredients
¾ cup sifted all-purpose flour
½ cup graham cracker crumbs
½ teaspoon baking powder
⅛ teaspoon salt
½ cup butter, melted
1 cup firmly packed brown sugar
2 eggs
1 cup canned pumpkin
½ cup granulated sugar, divided
1 teaspoon pumpkin pie spice
1 teaspoon vanilla
1 medium apple, peeled and diced
1 tablespoon water
4 ounces reduced fat cream cheese, cut into ¾-inch cubes
Instructions
Preheat oven to 350˚F.
In a medium bowl, add flour, graham cracker crumbs, baking powder and salt. Whisk ingredients together and set aside.
In a small bowl, combine butter with brown sugar. Add 1 egg and blend well. Combine with flour mixture. Spread in a buttered 8x8x2-inch square pan.
In same medium bowl, combine pumpkin, ¼ cup granulated sugar, pumpkin pie spice, vanilla and the remaining egg (lightly beaten). Spread on top of blondie crust.
In a small saucepan, place apple, remaining ¼ cup granulated sugar and water. Cook on medium high heat until the apple is tender, stirring often. Remove from heat and add cream cheese cubes. Stir slightly so that the mixture is combined, but the cubes are not entirely melted. Dollop apples on top of pumpkin filling. Using a knife, swirl to marble.
Bake at 350˚ F. for 55-65 minutes or until center is set. Remove pan from the oven and place on a wire rack to cool for 30 minutes. Cut the blondies into 2-inch squares. Refrigerate leftovers (although there won't be any!).
Notes
Recipe by Jazzy Gourmet Cooking Studio at http://jazzygourmetblog.com
© 2013 Sherry Klinedinst
All rights reserved. Repost with permission only.
Watch video here:
Can't see video?  Watch it here: Fall Harvest Cheesecake Blondies
Linked to these fabulous parties.
Featured here:
Join Sherry K – Jazzy Gourmet on Facebook, Pinterest, Twitter

Mom always said it is nice to share!