with Cherry Bourbon Butter Sauce! 
I have spent the most grand and glorious last few days in Door County, WI with my mom and aunt.   We have shopped, we have toured, we have walked, and (oh my) have we eaten!
Of course we did the local whitefish boil at Pelletier's: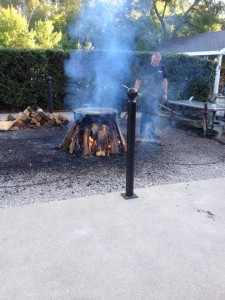 Ice Cream at Wilson's Restaurant and Ice Cream Parlor in Ephraim: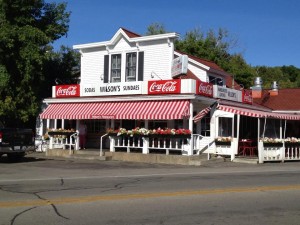 We spotted Al Johnson's goats on top of the roof: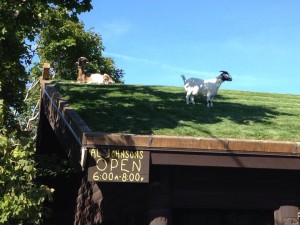 And I tried my very first halibut cheeks at Harbor Fish Market & Grille in Bailey's Harbor: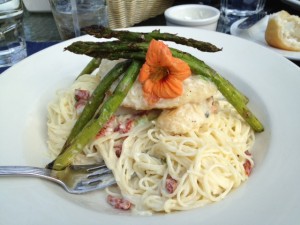 Mom had the 1 lb. rock lobster tail: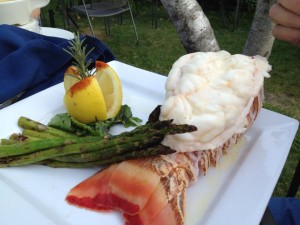 But mostly, we sampled cherry everything:  cherry pie, cherry salsa, cherry butter, cherry strudel, cherry wine.  If it was a cherry product, we tried it, because we are in the heart of tart cherry country!
So how coincidental that I have been working on a cherry recipe.  My new Chocolate Cherry Zucchini Cake is a super moist fudgy chocolate cake that is studded with chunks of sweet cherries and topped with a Cherry Bourbon Butter Sauce.  And darest I mention how convenient it is to sneak in some zucchini as well?  As much as I have had my amusement poking fun at those ubiquitous little garden fertile wonders, I must admit that they make one heck of a moist cake.  And just think of all the fiber benefits without even detecting they are there!
If Cherry Bourbon Butter Sauce is not your thing, I've got a great little ice cream coming up that goes EXQUISITELY with this cake.  Stay tuned!
Chocolate Cherry Zucchini Cake
A super moist fudgy chocolate zucchini cake is studded with chunks of sweet cherries, and topped with a cherry bourbon butter sauce.
Ingredients
Chocolate Cherry Zucchini Cake:

3 cups + 2 tablespoons all-purpose flour
1 teaspoon cinnamon
½ cup unsweetened cocoa (I use dark)
1½ teaspoons salt
2 teaspoons baking soda
4 eggs, beaten
3 cups sugar
1 cup vegetable oil
⅔ cup boiling water
2 cups fresh pitted quartered sweet cherries
2 cups grated zucchini


Cherry Whiskey Butter Sauce:


3 cups fresh pitted chopped sweet cherries
¼ cup firmly packed light brown sugar
1½ tablespoons bourbon
¼ cup water
½ cup cold butter, sliced into pieces
Instructions
To make the cake, preheat oven to 350˚F. Grease and flour a Bundt pan (or use an all-in-one baking spray). Put 3 cups flour, cinnamon, cocoa, salt and soda in a large bowl and whisk together completely. Combine eggs, sugar and oil in a medium bowl. Add wet mixture to flour mixture and stir just until blended. Stir in water. Toss remaining 2 tablespoons flour with 2 cups quartered cherries to keep them from sinking to the bottom of the pan. Fold cherries and zucchini into batter and pour into prepared Bundt pan. Bake in 350˚F oven for 55-65 minutes or until toothpick inserted in middle comes out clean.
In the meantime, place 3 cups chopped cherries, brown sugar, bourbon and water in a large saucepan. Bring mixture to a boil and cook over medium heat until cherries are soft, about 7-10 minutes. Remove from heat and place in a blender, blending until smooth. Pour thru a fine mesh sieve back into the saucepan, pressing on the solids to extract the liquid. Stir in the butter while cooking on medium heat, until sauce is thickened.
Remove the cake from the oven and allow to cool for a few minutes. Loosen sides of the cake with a nylon spatula. Place a heatproof serving plate upside down over the pan; turn plate and pan over. Then remove the pan to reveal your masterpiece! Serve warm with the Cherry Bourbon Butter Sauce.
Notes
Recipe by Jazzy Gourmet Cooking Studio at http://jazzygourmetblog.com
© 2013 Sherry Klinedinst
All rights reserved. Repost with permission only.
Watch video here:
Can't see video?  Watch it here: Chocolate Cherry Zucchini Cake
Linked to these fabulous parties.
Featured here:
Join Sherry K – Jazzy Gourmet on Facebook, Pinterest, Twitter
Mom always said it is nice to share!