And Behind the Curtain Dessert Challenge!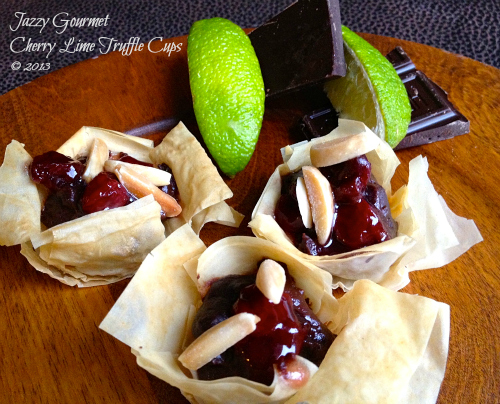 It's funny how inspiration comes in different forms.  As a composer, I see inspiration all around me — in colors, textures, emotions and other elements of our everyday existence.  For instance, I can hear a certain rhythm in the sound of children playing or traffic passing by me.  I can hear a melody when an elderly person tells me a story.  I can hear chords strummed on a guitar while the dogs sleep peacefully by the edge of my bed.  Music never seems to leave my side.
The same can be said for new recipes.  I can visualize the taste of something crunchy and sweet while strangled in a yoga pose.  Or I can dream of something salty and smooth while cruising down the open road on my motorcycle.
But this time, inspiration came from a precise call to create.  Sheryl, at Lady Behind the Curtain, invited us to join her Behind the Curtain Dessert Challenge.  Each month, she has picked 2 ingredients (such as coconut and lime or caramel and pretzels) that we are supposed to develop into a dessert.  Sound like fun?  If so, join us next month, when the chosen ingredients are almond paste and pastry dough. My goodness, I feel my wheels turning already, how about you?  The complete list can be found here:  Behind the Curtain Dessert Challenge ingredient list.
So in this, our premiere Dessert Challenge, Sheryl has chosen cherries and chocolate–a marriage made in heaven, eh?  And my entry is Cherry Lime Truffle Cups:  crunchy phyllo cups filled with creamy chocolate ganache and a dollop of cherry lime topping and toasted almond slivers.   It's kind of like a cherry lime drink, mixed with chocolate truffles and turned into a strudel!
Want to see all the entries?  Just scroll on down to the bottom of this post.  Hopefully, if the technology gods are on my side today, you will see the links to some great recipes and the talented people who have created them!
Cherry Lime Truffle Cups
Ingredients
Truffle Filling:
6 ounces bittersweet chocolate, chopped into pieces
½ cup milk
2 tablespoons butter, cut into small pieces
1 tablespoon lime zest
Phyllo Cups:
4 sheets frozen phyllo dough, thawed
2 tablespoons butter, melted
Cherry Topping:
Instructions
Place the chocolate in a medium sized heatproof bowl and set aside. Heat the milk and butter in a medium sauce pan (or microwave) until boiling. Remove from heat and pour over chocolate. Allow to stand for a few minutes without stirring. Stir gently (to prevent air from getting into the ganache) with a spoon or whisk until smooth. Mix in lime zest. Chill for 1 hour, until thick.

Preheat oven to 350˚F. Grease a 24-cup mini muffin pan. Lay one sheet of phyllo dough out onto a clean work surface. Brush with ½ tablespoon 0f the butter. Lay a second sheet of phyllo dough over the top and brush with another ½ tablespoon butter. Cut into 24 pieces . Place into the prepared muffin pan. Repeat procedure with remaining phyllo sheets, placing the 2nd layer with alternating corner points in the pan. Bake in a 350˚ F. until phyllo dough is golden, about 4-6 minutes.

In a small saucepan, combine cherries, cornstarch, honey and lime juice. Combine well. Bring mixture to a boil and cook a few minutes, stirring occasionally, until thickened. Remove from heat and set aside to cool (mixture will thicken more as it cools).

Let phyllo cups cool to room temperature. Pipe or spoon chocolate filling into each cup. Top with cherries and toasted almond slivers. Serve immediately.
Watch video here:
Can't see video?  Watch it here:  Cherry Lime Truffle Cups
Linked to these fabulous parties.
Join Sherry K – Jazzy Gourmet on Facebook, Pinterest, Twitter
Mom always said it is nice to share!