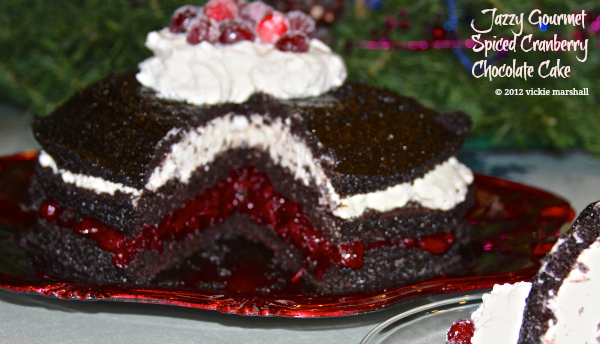 Here I go layering again.
I guess I just can't help myself.
Just like I can't help but add cranberries and cream cheese to a chocolate cake.  I mean, who does these things?
At first it didn't seem like a match made in heaven to me.  Rich chocolate cake with tart cranberries?  I truly wasn't sure I was going to like it.  But I had visions of a dark fudgy cake, layered with a bright red berry filling.  Neither strawberries nor raspberries are in season right now.  Pomegranate would make a beautiful filling, but I didn't want the texture of those tasty little seeds.  Cherries seemed like an option; but again, not in season, and maraschinos didn't really appeal to me in this setting.
Plus, I knew that merely pairing the chocolate with the fruit would require a buffer; a light creamy matchmaker, to passionately woo and inspire the unlikely couple to becoming the best of soul mates.
I started with the old-fashioned boiled water chocolate cake that all our grandmas used.  It's rich, moist, dark–'nuff said.  Just be sure to line the bottom of the pans with parchment paper.  I didn't the first time, and even tho I greased/floured the heck out of them, a good chunk of cake remained in the pan.  Shucks, but it made for great snackin' though!
The cranberry filling had to be intensely fruity, not too sweet, with a strong influence of spice.  I just love cooking cranberries and listening to them "pop" as they cook.  Oh, and I had never sugared cranberries before. It's a super simple (as in "simple syrup") process that makes gorgeous results!
The cream cheese layer had to be mousse-like and kissed with vanilla.  Just be sure to mix the gelatin thoroughly, because you don't want the mess like I had in my freezer when I made my Gingerbread Mountain a couple of weeks ago!
And thanks again to the kind folks of Southside Christian Church for being my guinea pigs at the Christmas potluck last Sunday!  I came home with a clean platter, so it must have been a hit.
Spiced Cranberry Chocolate Cake
Ingredients
Cake:
1⅓ cups all-purpose flour
1⅓ cups granulated sugar
½ cup unsweetened cocoa (I use special dark)
1¼ teaspoons baking soda
¾ teaspoon baking powder
¼ teaspoon salt
⅓ cup vegetable oil
⅔ cup milk
1 egg
¾ teaspoon vanilla
⅔ cup boiling water
Cranberry Filling:
1 cup water
1 cup + 1 teaspoon sugar, divided
4 cups (1 12-ounce package) cranberries
1 teaspoon cinnamon
½ teaspoon cardamom
⅛ teaspoon ground cloves
1½ teaspoons grated orange zest
Cream Cheese Filling:
Instructions
For the cake, preheat oven to 350˚F. Butter (or spray with nonstick cooking spray) 2 (9-inch) round cake pans, and line bottom with parchment paper. Sift together flour, 1⅓ cups sugar, cocoa, baking soda, baking powder and salt in a large bowl. Add oil, milk, egg and ¾ teaspoon vanilla and stir to combine. Stir in ⅔ cup boiling water. Do not over mix. If you have 3 cake pans, put ⅓ of the batter into each pan and bake 20-25 minutes, or until a toothpick inserted in the cake comes out clean. OR, measure 1 cup of the batter and pour into one cake pan. Pour the remaining batter into the other pan. Bake at 350˚F for 20-25minutes. Remove the smaller layer from the oven. Bake remaining layer for another 30-35 minutes. Cool all layers on a wire rack in the pans.
Remove ¼ cup cranberries from the bag and set aside. Bring 1 cup water and 1 cup sugar to a simmer in a medium saucepan. Submerge reserved ¼ cup cranberries in the liquid and refrigerate for 8 hours or overnight. Remove cranberries with a slotted spoon. Transfer to a wire rack to dry for one hour. Make sure the cranberries are not touching, so that clumps of sugar don't appear. Place 1 teaspoon sugar in a shallow dish. Roll the cranberries in the sugar to coat. Then dry for another hour. Set aside for garnish
Add the rest of the cranberries, cinnamon, cardamom and cloves to the water/sugar mixture and bring to a boil. Stirring occasionally, cook until mixture starts to thicken, about 10-15 minutes. Remove from heat, stir in orange zest and set aside to cool. Mixture will thicken more as it cools.
Soften the gelatin in ¼ cup cold water for about 5 minutes in a microwave-safe dish. In a medium chilled bowl, whip cream until soft peaks form. Add 1 tablespoon powdered sugar and 1 teaspoon vanilla and continue to whip until stiff peaks form (If you want some tips on whipping cream, watch my episode of How to Make Fresh Whipped Cream.). In a small bowl, cream together cream cheese and remaining 1 cup powdered sugar. Microwave gelatin until it dissolves and starts to bubble around the edges, around 30 seconds. Stir ½ of the dissolved gelatin into the cream cheese mixture and combine well. Stir the other ½ of the gelatin into the cranberry mixture and combine well. Make sure you integrate the gelatin thoroughly or you will have chunks of gelatin in your fillings! Fold ½ of the whipped cream into the cream cheese mixture and save the rest for garnish. Put both fillings into the fridge for 1 hour.
To assemble, place the smaller layer of cake on a cake plate (if you used 2 cake pans). Place the cranberry mixture over the cake. Cut the larger layer in half horizontally. Place the bottom half of the cake layer on top of the cranberries. Spread cream cheese filling over 2nd cake layer. Place remaining cake layer on top. Cover and refrigerate for a few hours or overnight. Top with whipped cream garnish and sugared cranberries. Refrigerate any leftover cake.
Watch video here:
Can't see video?  Watch it here:  Spiced Cranberry Chocolate Cake
Linked to these fabulous parties.
Join Sherry K – Jazzy Gourmet on Facebook, Pinterest, Twitter
Mom always said it is nice to share!