with Mini Profiterole Dunkin' Sticks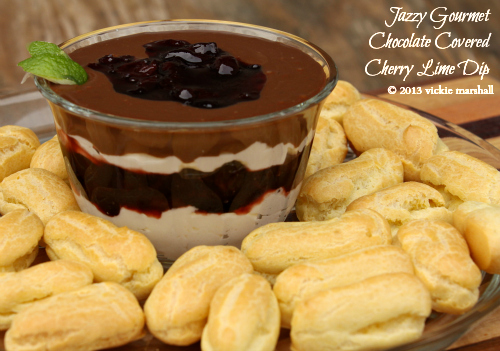 My heart is filled with gratitude right now.  Many of you read about my aunt and her "Easter feast" a couple of weeks ago.  (If you missed the post, it is here: Easter Egg Nest Centerpiece.)  Little did I know how close I came to seeing her for the last time that day.
Last week, she was sitting in her office, along with another coworker, when they heard the crash of a car hitting a fire hydrant right outside their building.  They immediately went to the door to see what had happened.  The driver, influenced by a diabetic episode, had become lodged on the hydrant and was trying to free himself by rocking the car back and forth.  At that moment, his car was parallel to their building. In the next moment, he gunned it a final time and freed himself.  But instead of driving in a straight line, his car turned and veered at 50 mph, right for the door where my aunt and her coworker were standing.  Unfortunately, the small area where they were standing was in between a set of double doors, and the inside door could only be opened by turning a doorknob and opening it outward.  My aunt got as far as turning and getting her hand on the door knob when the car smashed into the two women, crashing them through the inside door and hurling them through the room.
When all the bricks, glass and debris settled, my aunt lay in the middle of the lobby area, while her coworker was pinned between the back of the car and a chair on the opposite wall.  The driver was so incoherent that his foot remained on the accelerator while the woman screamed for him to shut off the engine.  Luckily, a passerby had seen the driver hit the hydrant and had called 911 at that time, so it was a matter of minutes before the two women were tended to by emergency personnel.  Miraculously, both of them sustained no life-threatening injuries.
No, let me rephrase that:  Miraculously, both women are A L I V E.   While both will be in some pain for a while, their lives were spared that day.
Initially, I was pretty upset by the news.  I couldn't help but think about the freaky, unexplained nature of it all:
If the man hadn't hit the hydrant first, they would have been in their offices and away from danger.
If he had just backed STRAIGHT off of the hydrant, they would have been safe.
With as long as the building is, if a bullseye had been painted on the door, he couldn't have aimed for the target better.
If they hadn't been trapped between the double doors, they might have been able to flee in time.
But then I suddenly realized that I could be telling this story with a very different outcome.  I could have lost my aunt entirely that day.   And once I came to that realization, I could release my sorrow and see the situation for the blessing that it was.  I could see how incredibly fortunate that we all are.  I began to thank God over and over again for God's gracious loving care.  We were given a gift that day, and I will always be grateful.
So at the same time that this was going on, I also "celebrated" my blog's first anniversary date last week. I say "celebrated" because there wasn't any big hoopla.  No giant giveaway.  No linky party blogiversary extravaganza.  Just a quiet reflection on how much I love my family, I love writing about food and other fun stuff, and I love the fact that you all are here to share it with me. Cheers to another year of loving, living, eating, cooking and…gosh, is there anything else?!
Oh yeah, and cheers to some Chocolate Covered Cherry Lime Dip, which has nothing to do with this post, but it's pretty darned tasty!
Chocolate Covered Cherry Lime Dip
Tangy cherries are layered between sweet fluffy pools of cream cheese goodness, then covered in a dark chocolate ganache. Serve with homemade profiterole "dunkin' sticks".
Ingredients
¾ cup milk, divided
¼ cup + 1 tablespoon butter, divided
dash salt
½ cup all-purpose flour
2 eggs
2 ounces bittersweet chocolate, chopped into pieces
½ tablespoon lime zest
1 cup fresh (or frozen and thawed) pitted sweet cherry halves
½ tablespoon cornstarch
¼ cup honey
½ tablespoon freshly squeezed lime juice
¼ cup cold whipping cream
4 ounces reduced fat cream cheese, softened
½ cup + 2 tablespoons powdered sugar
½ teaspoon vanilla
Instructions
Preheat oven to 425˚ F. Line a large baking sheet with parchment paper or baking mat.
For the profiteroles: In a medium saucepan, combine ½ cup milk, ¼ cup butter and salt and bring to a boil. Reduce the heat, add the flour and stir vigorously with a wooden spoon. Cook until the mixture pulls away from the sides of the pan and forms a ball. Transfer the mixture to a medium mixing bowl and allow to cool for a few minutes. Using an electric mixer, add eggs, one at a time, incorporating each egg before adding the next one.
Spoon the mixture into a plastic bag and snip off a corner. Pipe mixture onto the baking sheet, forming a ½″ x 1½″ log shape. Be sure to leave at least 1 inch in between each of the logs. Dampen a fingertip with water and gently flatten any peaks that may have formed. Bake for 15-20 minutes, rotating the pan halfway through the baking time. Turn off the oven and leave the profiteroles in the oven for an additional 10 minutes, or until they sound hollow when you tap on them. Cool on a wire rack.
For the ganache: Place the chocolate in a small heatproof bowl and set aside. Chop the remaining tablespoon of butter into small pieces. Heat the remaining ¼ cup milk and butter in a medium sauce pan (or microwave) until boiling. Remove from heat and pour over chocolate. Allow to stand for a few minutes without stirring. Stir gently (to prevent air from getting into the ganache) with a spoon or whisk until smooth. Mix in lime zest and chill.
In a small saucepan, combine cherries, cornstarch, honey and lime juice. Combine well. Bring mixture to a boil and cook a few minutes, stirring occasionally, until thickened. Remove from heat and set aside to cool (mixture will thicken more as it cools).
In a small chilled metal bowl, whip cream until stiff peaks form. In another small bowl, cream together cream cheese and powdered sugar. Add vanilla and fold in whipped cream.
To assemble, spoon half of the cream cheese mixture into a serving bowl. Add cherries (save a little for garnish), followed by the other half of the cream cheese. Then top with chocolate ganache. Garnish with cherries and lime wedges. Serve with profiterole dunkin' sticks, graham crackers and/or shortbread cookies.
Notes
Recipe by Jazzy Gourmet Cooking Studio at http://jazzygourmetblog.com
© 2013 Sherry Klinedinst
All rights reserved. Repost with permission only.
Watch video here:
Can't see video?  Watch it here:  Chocolate Covered Cherry Lime Dip
Linked to these fabulous parties.
Featured here:
Join Sherry K – Jazzy Gourmet on Facebook, Pinterest, Twitter
Mom always said it is nice to share!