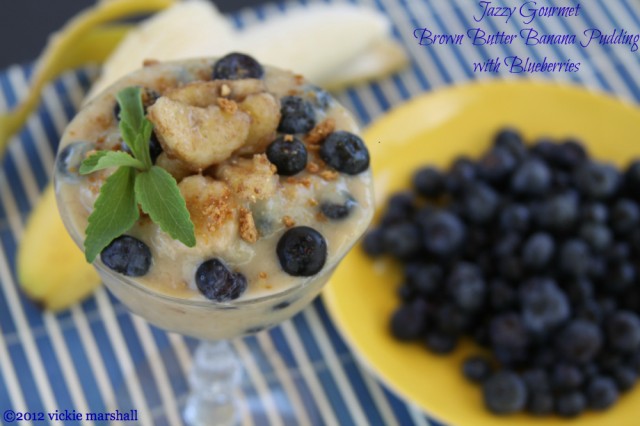 When I was growing up, my grandma made the best banana pudding ever.  For every summertime occasion, be it 4th of July or someone's birthday, we could count on her to stir us up a bowlful.
 As I grew older, I was so surprised that the pudding itself didn't even contain bananas!  She neatly layered  fresh banana slices between layers of the rich and gooey caramel custard pudding.  Then she topped it off with a generous sprinkling of chopped peanuts.
Ooh, how I could've taken on that bowl by myself!
Shortly after I graduated from college, Grandma was diagnosed with Alzheimer's.   One of my greatest regrets is that I didn't ask her for her recipes soon enough.  By the time I asked, they came with missing ingredients or "2 cups of salt".
But I did manage to salvage her banana pudding recipe, in her own handwriting, that I will always cherish.  I even had it laminated so that it will be preserved.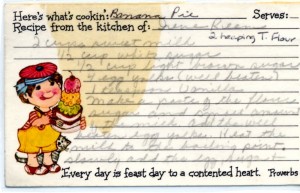 While I may have put a touch of "jazz" into the recipe, I consider it to be a means of paying homage to a woman who absolutely loved us kids with all her heart.
What is your favorite recipe from your grandma?
Brown Butter Banana Pudding with Blueberries
Rich caramelized pudding, with skillet browned butter bananas, is complemented by light tangy blueberries in this luscious dessert.
inspired from: Grandma
Ingredients
2 tablespoons butter
3 ripe bananas
1 teaspoon fresh lemon juice
4 egg yolks (well beaten)
3 tablespoons flour
½ cup granulated sugar
½ cup light brown sugar
2 cups milk, divided
1 teaspoon vanilla
2 cups fresh blueberries
Instructions
In a medium skillet over medium heat, brown the butter. Stir often, so that it doesn't burn in spots. Add bananas and mix well to cover them. Stir in lemon juice and remove from heat. Make a paste of the egg yolks, flour, sugars and ½ c. of the milk in a heavy medium saucepan. In a microwave-safe bowl, heat remaining milk 1 minute. Slowly add milk to the egg mixture and, stirring constantly, cook over medium low heat 10 minutes or until thick. Remove from heat and stir in vanilla and banana mixture, reserving a little for garnish. Pour into medium bowl, let cool for 5 minutes, then press plastic wrap onto the surface of the pudding. Refrigerate till completely cool, about 30 minutes. Add blueberries. Garnish with additional blueberries, reserved banana mixture, and perhaps chopped peanuts or graham cracker crumbs.
Notes
Recipe by Jazzy Gourmet Cooking Studio at http://jazzygourmetblog.com
© 2013 Sherry Klinedinst
All rights reserved. Repost with permission only.
Watch video here:
Can't see video?  Watch it here:  Brown Butter Banana Pudding with Blueberries
Linked to some of these 
fabulous parties
.
Join Sherry K – Jazzy Gourmet on Facebook, Pinterest, Twitter
 Mom always said it is nice to share!