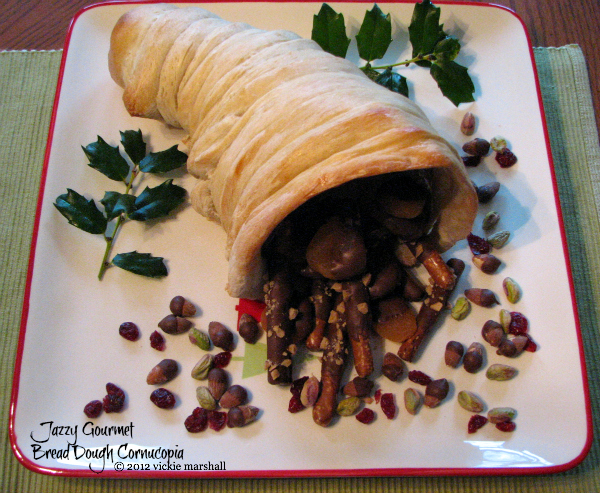 Whether you call it Cornucopia or Horn of Plenty, this symbol of abundance makes a great edible centerpiece for the Thanksgiving table!  Symbolically, it represents a goat's horn, which in Greek Mythology, broke off and became filled with fruit.  Folklore has it that the horn is filled with whatever its owner wants and desires.  So of course mine has chocolate in it!
 I first came across this edible version on the Taste of Home website. Jacquelyn (whose last name I don't see on the site) formed a cone out of a disposable pizza pan and layered strips of bread dough around it. The first time I made this, I couldn't find a disposable pizza pan, so I formed a cone out of foil.  The cornucopia looked cool, but the foil had become embedded in the dough as it baked and was a pain in the neck to get out.
Since then, I use an old-fashioned cone-shaped sieve to shape the dough.  If you're unfamiliar with them, they are listed by various names:  food masher, colander, sieve, food mill.  They are made of aluminum and come with a stand and a wooden pestle.  Traditionally, they are used to mash fruits and vegetables to remove skin and seeds.  Mom and I used to use hers for canning tomato juice.  I know they have them available on Amazon.  You can see what they look like by watching the video below.  Whatever they're called, they make a great form for cornucopias!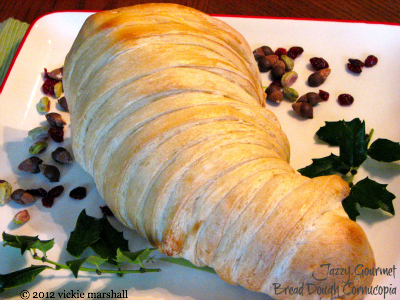 Bread Dough Cornucopia
(by Jacquelyn, at Taste of Home)
To Make the cornucopia, you'll need:
cooking spray
1 disposable pizza pan, shaped into a cone
OR
1 of those old fashioned cone-shaped tomato masher colander thingies
a baking sheet
enough bread dough to make 2 loaves (either frozen and thawed, or homemade)
1 egg
1 tablespoon water
aluminum foil
Spray both the cone-shaped form and the baking sheet with cooking spray.  Place the form on the baking sheet.
Roll the bread dough into a large rectangle, about 1/4-inch thick. Cut into 1 1/2-inch strips lengthwise, then cut 1/2 of the strips in half.
Take one of the short strips and roll it up into a ball.  Place the ball on the small end of the cone.  Keep adding short strips around the cone, overlapping as you go, and tucking the seam underneath the cone.  As you get to the bigger section of the cone, start using the long strips.  Shape remaining dough into dinner rolls.
Cover with a towel and allow to rest for 15 minutes.  Beat egg with the water and brush onto cornucopia.  Bake in a 350˚F. oven for 20 minutes.  Cover with foil and bake another 20 minutes.  Remove the foil and bake 20 minutes more at 250˚F.
Cool 10 minutes and remove form by twisting slightly.  Cool completely.  Fill with nuts, pretzels and dried fruit that have been dipped in chocolate, rolls, cookies, cheese, greenery, etc.
Cornucopia may be made 5 days in advance.  Store at room temperature, covered with a towel.
Watch video here:
Can't see video?  Watch it here:  Bread Dough Cornucopia
Linked to these fabulous parties.
Join Sherry K – Jazzy Gourmet on Facebook, Pinterest, Twitter
Mom always said it is nice to share!