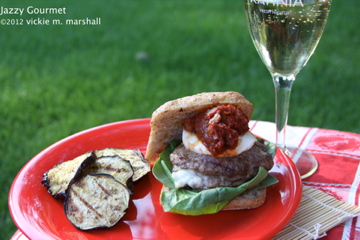 Have you ever had a hankering for lasagna in the summertime, but didn't feel like heating up the oven to make it?  Me neither, so that's why I came up with my Lasagna Burger.
It has all the comforting cheesy, tomato-ey flavor of lasagna, but is more suited for any cookout!
Good-quality meats and cheese, topped with a rich tomato sauce, make this burger a mouthwatering alternative to the classic Italian dish.  The pocket of ricotta nestled within the patties is a pleasant surprise when your guests take that first bite.
Oh, and don't forget to use a good white wine. I like the semi-sweet varieties of Reisling or Gewurstraminer, but any wine that you enjoy will make a great ingredient.  Not to mention that you need something decent to sip while you're flipping those burgers!
Lasagna Burger
Good-quality meats and cheese, topped with a rich tomato sauce, make this burger a mouthwatering alternative to the classic Italian dish.
Cuisine:
American/Italian
Ingredients
Tomato Sauce:

1 tablespoon extra virgin olive oil
1 large onion, chopped
2 cloves garlic, chopped
1 (14-ounce) can diced tomatoes
1 tablespoon tomato paste
¼ cup white wine
1 tablespoon dry Italian seasoning herb blend

Ricotta Filling:

¾ cup Ricotta cheese
1 tablespoon fresh lemon zest
¼ teaspoon salt
⅛ teaspoon pepper

Patties:

1 pound ground sirloin
1 pound sweet Italian sausage
1 teaspoon salt
1 teaspoon pepper

2-3 tablespoons vegetable oil, for brushing on the grill rack
6 slices fresh mozzarella cheese
6 ciabatta rolls
1 cup packed fresh salad greens
4 tablespoons extra virgin olive oil
Instructions
Prepare a medium-hot fire in a charcoal grill with a cover, or preheat a gas grill to medium-high.
To make the tomato sauce, heat oil in a medium saucepan over medium high heat. Add the onion. Cook, stirring frequently, until tender, about 5-7 minutes. Add the garlic, tomatoes, tomato paste, wine and Italian seasoning. Simmer, stirring frequently, for 20-25 minutes, or until mixture is reduced to about 1 cup. Loosely cover the sauce with aluminum foil to keep warm and set aside.
To make the Ricotta filling, combine the Ricotta, lemon zest, salt and pepper in a small bowl. Cover and refrigerate until ready to use.
To make the patties, combine the sirloin, sausage, salt and pepper in a medium bowl, handling as little as possible. Shape into 12 patties to fit the roll size. Place ⅙ of ricotta mixture onto 6 of the patties and top with remaining 6 patties. Seal edges of each patty.
When the grill is ready, brush the grill rack with vegetable oil. Place the patties on the rack, cover, and cook until the bottoms are brown, about 4-6 minutes. With a spatula, turn the patties over and cook an additional 4-6 minutes, or until done to preference (internal temperature of 160 degrees F). During the last few minutes of grilling, top each patty with a slice of mozzarella cheese until melted. Lightly brush cut side of each roll with equal portions of the olive oil. Place the roll cut side down on the outer edges of the grill rack to toast.
To assemble the burgers, layer bottom of toasted roll with ⅙ of the greens, one patty and ⅙ of the tomato sauce. Add top of toasted roll and serve.
Notes
Recipe by Jazzy Gourmet Cooking Studio at http://jazzygourmetblog.com
© 2012 Sherry Klinedinst
All rights reserved. Repost with permission only.
Linked to some of these 
fabulous parties
.
Featured here: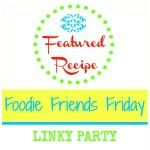 Join Sherry K – Jazzy Gourmet on Facebook, Pinterest, Twitter
Mom always said it is nice to share!