It's Zippy Tip Tuesday!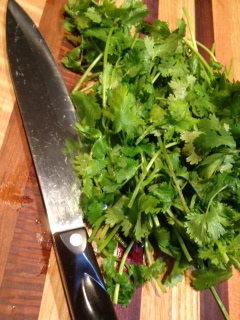 Last week, I talked about the importance of Maintaining the Sharpness of Your Knives.  
Today's video is all about using a chef's knife to chop fresh herbs.
 There's nothing better than adding fresh herbs to a recipe to brighten it up and add some earthy pizzazz.
A lot of people are starting to grow their own herbs.  But you don't always want to throw them in a food processor to chop them, because it's hard sometimes to get an even chop.
 To control the size of the chop, use your chef's knife for everything from parsley to basil to rosemary.  
Watch video here:
Can't see video? Watch it here:  Chopping Fresh Herbs with a Chef's Knife
Mom always said it is nice to share!