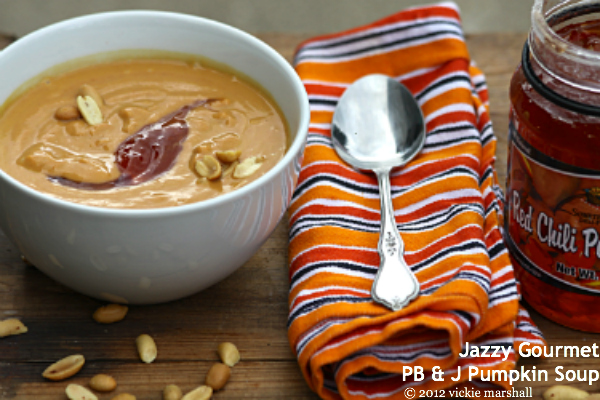 Just as I thought I had exhausted my use of pumpkin for the season, along came an idea in my noggin for some pumpkin soup.
It's smooth, it's creamy, it's comfort in a bowl!
But I knew I didn't want to use cream, and I also thought about giving it an Asian twist.
So I based the recipe on my Thai Ginger Coconut Chicken Soup, by replacing the cream with coconut milk and including other Thai flavors, such as ginger, fish sauce and lime juice.  I knew I wanted to incorporate peanuts somehow, and needed a little heat/sweet to jazz up the pot, so the PB & J motif took off from there.
I know I lamented last week about how a lot of my recipes are subjected to the rigors of trial and error, but this one came together like a charm!  Remind me of that the next time I complain about the hardships of recipe development, will ya?
If you're interested in making your own coconut milk, watch my episode of how to make Fresh Homemade Coconut Milk.
If you want to use homemade chicken stock, watch my episode of How to Make Your Own Chicken Stock
PB & J Pumpkin Soup
All the flavors of a smooth and creamy pumpkin soup are enhanced with an Asian twist of coconut milk, lime, peanuts and chili pepper (jelly, that is).
Instructions
In a small skillet, heat olive oil over medium heat. Add onion, and cook for a few minutes. Add garlic and ginger and continue to cook a few more minutes until onion is softened. Remove from heat and place in blender. Add the chicken stock, coconut milk, lime juice , fish sauce, peanut butter and pumpkin to the blender and blend on high until smooth. Strain mixture into a medium saucepan and heat thoroughly. When serving, ladle soup into individual bowls and garnish with a teaspoon or 2 of pepper jelly and peanuts. Stir to combine and enjoy!
Mom always said it is nice to share!