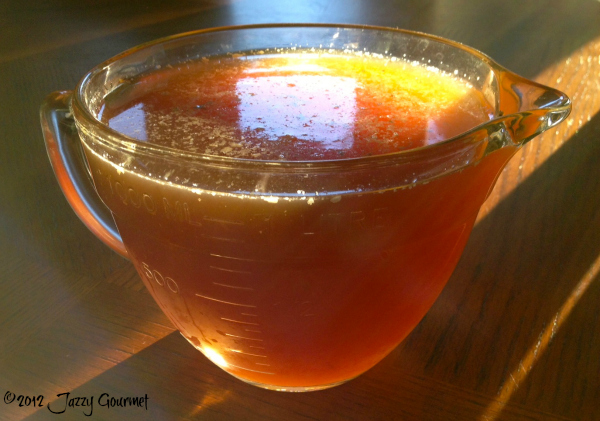 Nearly every week during the fall and winter months, I buy or make a rotisserie chicken and we snarf down the dark meat (our favorite part!).  Then I pick the meat off of the rest of the chicken and make stock with the carcass.
I load the pot with the bones and tons of aromatics–onions, celery, garlic, carrots, apples, orange peel, dried mushrooms–whatever I can find in the fridge or pantry!  The best part is that you don't have to peel anything, because all will be strained later.  Then I toss in salt and sprigs of dried herbs that grew in my garden over the summer.  Sometimes I even throw in a shredded sheet of nori, for its protein, fiber and other nutrients.
When my pot is filled to the brim, I add filtered water and simmer…
and simmer…
and simmer.
 When I'm left with a rich, dark flavorful golden stock, I strain out all the solids and put it back in the pot.  That just lends itself to another load of other glorious ingredients (including the chicken, sometimes) to make the soup of the week.
Other weeks, I make stock using beef or pork bones, smoked meat bones or just veggies.  And the stock can be used in other dimensions beyond soup.  Use it to cook rice, risotto, pot pies and sauces.
The possibilities are endless, and the flavor is far superior to the canned variety.  After all, you created it yourself!
Watch video here:
 Can't see video?  Watch it here:  Make Your Own Chicken Stock
Mom always said it is nice to share!