It's Zippy Tip Tuesday!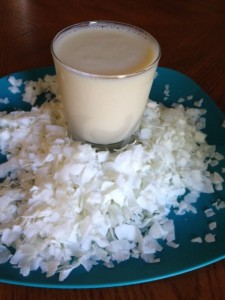 Want to make your own fresh homemade coconut?
 You wouldn't believe how easy it is!
Just add 2 parts warm water to 1 part unsweetened coconut in the blender.  
Pulse lightly a few times, and then run the blender for a full minute.  
Warning:  If you run the blender full throttle right away, you'll end up with water and  coconut all over your cabinets (ask me how I know)!
Let this mixture set a few minutes and run it through a strainer.  Press the coconut into the strainer with the back of a spoon to extract all that wonderful milk. 
Use your freshly made coconut milk immediately, or store in the fridge for a few days.  
See how easy that is?  If you want more tutelage,  just watch this video:
Can't see video?  Watch it here:  Fresh Homemade Coconut Milk
Mom always said it is nice to share!