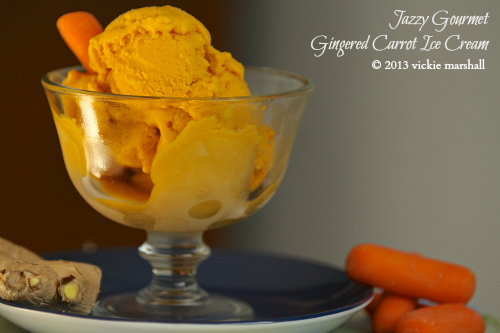 S.O. and I had the loveliest time dining at our friend Lynn's last week.  Lynn just loves to "put on the dog" when it comes to fixing a good meal.  Back in the day, she worked at a junior high school as a Home Economics teacher.  So preparing a fine meal and decorating a fancy table is what she calls her "major".
So I was deeeelighted when she invited us over for dinner!  We had chicken in what she called a "Julia Child cream sauce" and mushrooms, a tweaked out nutty Israeli couscous, a marvelous cheesy zucchini casserole, fresh tomato slices from her garden and "MeeMaw's (sp?) Pound Cake for dessert.  I had asked ahead of time if I could bring something, just knowing the answer would be no.  But I quickly inserted that I had an ice cream experiment in the wings that was dying to be tried.
Lynn is a sucker for ice cream.
And might I say that it went exceptionally well with that pound cake?
About the ice cream–think Asian flavors of coconut milk, lemongrass and ginger; think honey spiced glazed carrots; think scrumpdillyicious good!  Oh, and besides MeeMaw's Pound Cake, it is unbelievably stellar on my Chocolate Cherry Zucchini Cake too.  Just sayin'!
Gingered Carrot Ice Cream
Bright orange carrots, sliced fresh ginger, lemongrass, and honey are all infused in a rich coconut milk base that is churned into a unique sweet treat.
Ingredients
2 cups peeled and sliced carrots
2 cups coconut milk
1 cinnamon stick
1 stalk fresh lemongrass, trimmed, smashed, and cut into 2-inch pieces
2 quarter-sized slices ginger
pinch salt
1 tablespoon cornstarch
⅓ cup honey
⅓ cup light brown sugar
1 cup heavy cream
Instructions
Combine the carrots, coconut milk, cinnamon stick, lemongrass, ginger and salt in a heavy medium saucepan. Bring to a boil; reduce heat to a simmer and cook until the carrots are soft, about 8-12 minutes. Cover, turn off the heat, and let set to infuse 30-60 minutes.
Fish out the cinnamon stick, ginger and lemongrass and pour carrot mixture into a blender. Add cornstarch and blend until smooth.
Prepare an ice bath in a large bowl. Position a fine mesh sieve over a medium bowl with a spout and place in the ice bath.
Return the carrot mixture to the saucepan and add honey and brown sugar. Bring to a boil and cook over medium high heat for 4 minutes, stirring constantly. Make sure the temperature is not too hot, or the mixture will blup up out of the pan.
Strain through the sieve into the bowl with a pouring spout, pressing to separate the liquid from any solids. Add the cream and stir until chilled. Cover and refrigerate until very cold (overnight if possible).
When ice cream base has chilled, churn in ice cream maker, according to manufacturer's instructions.
Transfer to a sealed container and freeze to bloom for at least 3 hours. Just before serving, remove from freezer and allow to rest 5-10 minutes before scooping into bowls.
Makes about 1 quart
Notes
Recipe by Jazzy Gourmet Cooking Studio at http://jazzygourmetblog.com
© 2013 Sherry Klinedinst
All rights reserved. Repost with permission only.
Watch video here:
Can't see video?  Watch it here: Gingered Carrot Ice Cream
Linked to these fabulous parties.
Featured here:
Join Sherry K – Jazzy Gourmet on Facebook, Pinterest, Twitter
Mom always said it is nice to share!