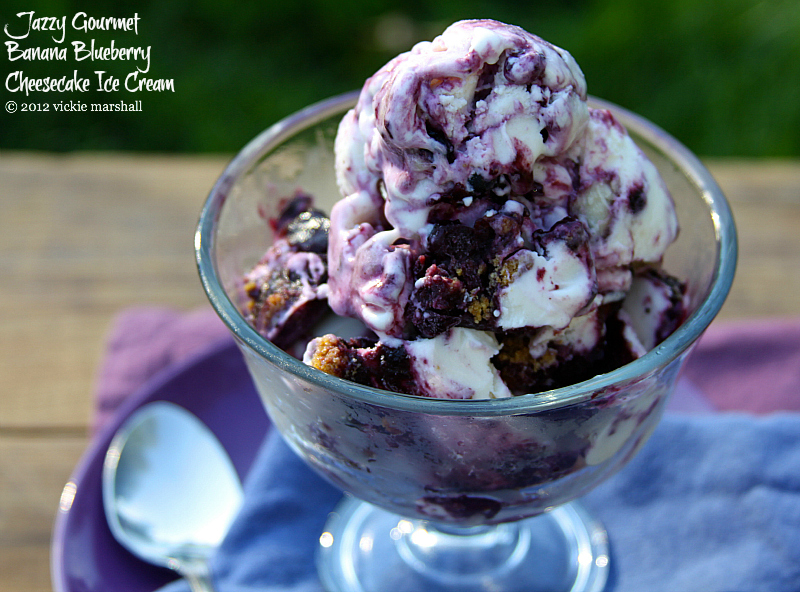 I hesitated for the longest time to buy the ice cream maker attachment to my KitchenAid stand mixer.  
After all, if I bought the attachment, wouldn't I be tempted to make (and eat) ice cream everyday?  Who needs temptations like that? But the thought of getting to experiment with different flavor combinations seemed too irresistible.  So I gave in to temptation, and I haven't looked back.
I just make a batch, my S.O. and I try it, and we find some dear cooperative souls to consume the rest.   So everybody wins!  
After the completion of my Banana Blueberry Bliss dessert a few weeks ago, I couldn't help but think that it would make a mighty fine ice cream–and I was right!  Just make a cheesecake ice cream base, swirl in a banana/blueberry sauce, toss in some graham cracker crust chunks, and prepare for some bliss-chilled paradise!
Banana Blueberry Cheesecake Ice Cream
Ice cream with a rich cheesecake base, swirls of luscious banana blueberry sauce, and chunks of graham cracker crust make this dessert unbelievably good!
(inspired by Sandy Smith's
Cheesecake Ice Cream-Eat Real
)
Ingredients
Blueberry Swirl:

1½ teaspoons cornstarch
¼ cup granulated sugar
1 cup fresh or frozen (and thawed) blueberries
1 ripe banana
1 tablespoon fresh lemon juice

Graham Cracker Layer:

½ cup graham cracker crumbs
2 tablespoons butter, melted

Ice Cream Base:

Instructions
In a small saucepan, combine cornstarch and ¼ cup sugar. In a food processor, add blueberries, banana and lemon juice. Pulse 5-6 times till mixture is slightly chunky. Combine blueberry banana mixture with sugar mixture in saucepan. Bring to a boil and cook, stirring occasionally, until thickened (about 5 minutes). Remove from heat and set aside to cool. Cover and refrigerate until chilled.
In a small bowl, combine graham cracker crumbs and melted butter. Press into an ungreased medium ramekin and bake at 350˚F for 10 minutes or until lightly browned. Cool in ramekin on a wire rack.
In the meantime, wash food processor and place cream cheese, sour cream, half-and-half, ⅔ cup sugar, vanilla and salt in it. Process until smooth. Transfer to container with pouring spout; cover, and refrigerate until chilled.
When ice cream base has chilled, churn in ice cream maker, according to manufacturer's instructions. Break graham cracker crust into pieces and place ½ of them on the bottom of a freezer-safe container. Top with ½ of the ice cream, followed by ½ of the blueberry sauce. Repeat with one more layer and swirl everything together. Be careful not to overmix.
Place sealed container in freezer to bloom for at least 3 hours. Just before serving, remove from freezer and allow to rest 5-10 minutes before scooping into bowls.
Notes
Recipe by Jazzy Gourmet Cooking Studio at http://jazzygourmetblog.com
© 2013 Sherry Klinedinst
All rights reserved. Repost with permission only.
Watch video here:
Can't see video?  Watch it here:  Banana Blueberry Cheesecake Ice Cream
Linked to these 
fabulous parties
.
Join Sherry K – Jazzy Gourmet on Facebook, Pinterest, Twitter
Mom always said it is nice to share!