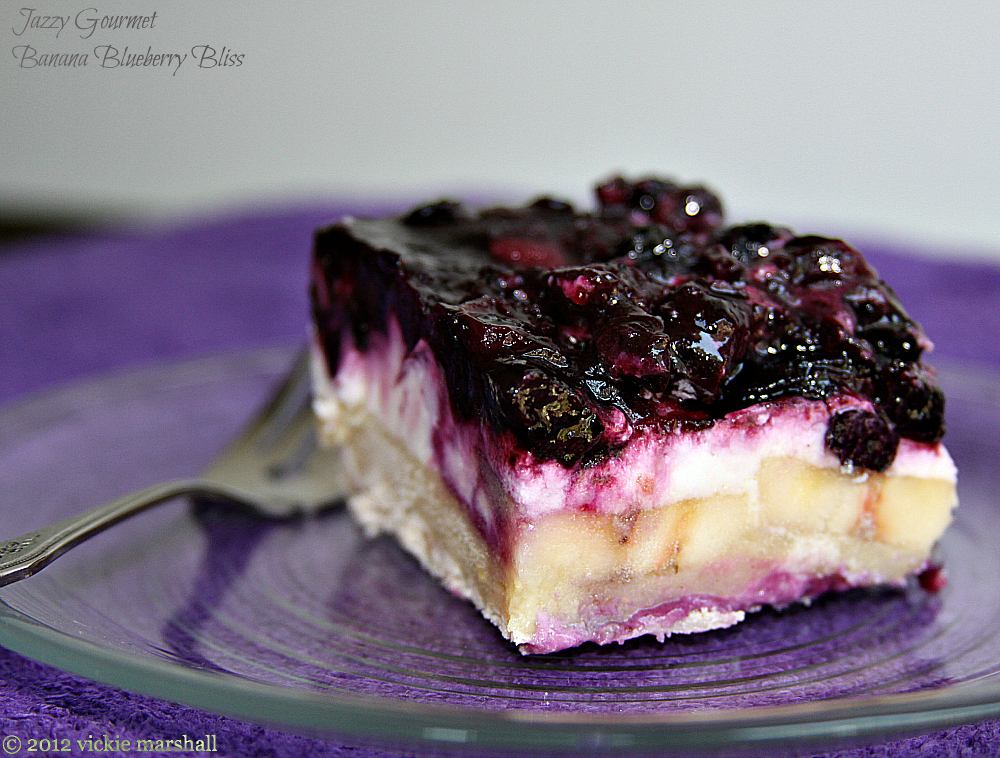 Have you ever had one of those days when you just wanted to come home to a little bliss?  
Perhaps a hot luxurious bubble bath?  
Maybe a glass of wine on the back deck?  
Possibly a little indulgent dessert?
Heck, maybe all 3!  
My Banana Blueberry Bliss has all the elements of pie, pudding, cheesecake and fruit, all in every deliciously smooth and creamy bite.  
Pretty soon, you'll be kicking back, saying "What demanding boss?  What screaming kids?  What hectic schedule tomorrow?"
Those thoughts won't even enter your mind, because you will have escaped into the world of total bliss, absolute blissdom, complete bliss-tacy.
Banana Blueberry Bliss
Layers of gooey banana pudding, sweet cream cheese and blueberry sauce top a pecan pastry crust to form a cool, creamy dessert.
Ingredients
Crust:

1 cup all-purpose flour
½ cup butter, softened
½ cup chopped pecans

Pudding layer:

4 egg yolks, beaten
2 heaping tablespoons flour
½ cup sugar
½ cup brown sugar
2 cups milk, divided
1 teaspoon pure vanilla extract

Blueberry layer:

2 tablespoons cornstarch
1 cup sugar
4 cups blueberries
3 tablespoons, plus 1 teaspoon fresh lemon juice

Cheesecake layer:

Instructions
For crust, mix 1 cup flour, butter and pecans together in a small bowl. Press into the bottom of a 9 x 13-inch glass baking dish (I use my hand, since mixture can stick to a spoon). Bake at 350˚F for 15 minutes. Cool completely.

For pudding, make a paste of the egg yolks, 2 heaping tablespoons flour, ½ cup sugar, brown sugar and small amount of the milk in a heavy medium saucepan. In a microwave-safe bowl, heat remaining milk 1 minute. Slowly add milk to the egg mixture and, stirring constantly, cook over medium low heat 10 minutes or until thick (mixture will thicken more as it cools). Remove from heat and stir in vanilla. Pour into medium bowl, then press plastic wrap onto the surface of the pudding, to eliminate a skin. Refrigerate till completely cool, about 30 minutes.

In a medium saucepan, combine cornstarch and sugar. Add blueberries and 3 tablespoons lemon juice. Combine well. Bring mixture to a boil and cook a few minutes, stirring occasionally, until thickened. Remove from heat and set aside to cool (mixture will thicken more as it cools).

In a small chilled bowl, whip cream until stiff peaks form. In another small bowl, cream together cream cheese and powdered sugar. Fold in whipped cream.

Spread pudding onto cooled crust. Layer with fresh banana slices that have been tossed in remaining 1 teaspoon lemon juice. Top with cream cheese layer, followed by blueberry sauce.

Refrigerate for 4 hours or overnight before serving.
Notes
Recipe by Jazzy Gourmet Cooking Studio at http://jazzygourmetblog.com
© 2013 Sherry Klinedinst
All rights reserved. Repost with permission only.
Watch video here:
Linked to some of these fabulous parties.
Join Sherry K – Jazzy Gourmet on 
Facebook
, 
Pinterest
, 
Twitter
Mom always said it is nice to share!