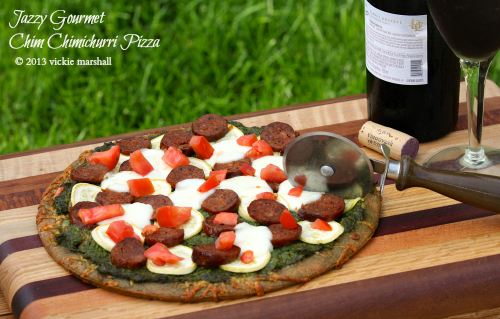 Summer isn't over till the last zucchini or yellow squash has been sliced, shredded, pickled, grilled, stuffed or pulverized.   And since we're all pretty aware that I have done my duty to give us some new ideas in this category (Can we say Chocolate Cherry Zucchini Cake, Corn-berry Cobbler, Upside-Down Peach Zucchini Cake, or Summer Harvest Veggiecakes?), I think I can put them to rest…
AFTER I show you this pizza.
Now technically, an authentic Argentinean chimichurri sauce is made mainly of herbs (parsley, oregano), garlic and red wine vinegar.  It's bright green color and fresh fantastic earthy flavor lends itself to practically any dish that you'd ever want to make.  With all the fresh herbs that I grow on my back deck during the summer, I sort of wing it with different combinations of flavors.  I'll make a fresh batch almost every week, and we will dump it on everything from grilled meats to bread to eggs or veggies.
Chim Chimichurri Pizza (sorry, but I just saw a clip of Dick Van Dyke in Mary Poppins!) is proof that you don't have to toil for hours over a hot stove in order to be jazzy.  Being jazzy can be quick.  Being jazzy can be simple.  But being jazzy also means setting aside the pepperoni and tomato sauce every once in a while and trying something a little out of the ordinary.
 I think you'll be glad you did.
Chim Chimichurri Pizza
Crisp pre-made whole wheat pizza crust is topped with a mixed herb chimichurri sauce, sausage, yellow squash, mozzarella cheese and fresh tomatoes.
Ingredients
Chimichurri Sauce:
1-2 cloves fresh garlic
2 ounces fresh mixed herbs (such as basil, oregano, parsley)
¼ teaspoon salt
Juice of ½ medium lemon
¼ cup extra virgin olive oil
Pizza:
1 (12-inch) ready-made whole wheat pizza crust
½ cup chimichurri sauce (see recipe below)
2 fully cooked sausage links, such as bratwurst or andouille, thinly sliced
1 small yellow squash, thinly sliced
8-10 cherry sized fresh mozzarella balls
½ cup fresh diced tomatoes
Instructions
Preheat oven (or grill) to 450˚ F.
For the chimichurri, put garlic in a food processor or chopper and pulse until chopped. Add herbs, salt and lemon juice. Slowly drizzle in olive oil while blending until combined. Set aside. Now, if you can make this a day ahead of time, the flavors will marry better. But to be honest, I think it's mighty tasty freshly made.
For oven-baked pizza, spread chimichurri sauce over pizza crust; top with sausage, squash and mozzarella. Bake on an ungreased pizza pan 10-12 minutes or until the cheese is melted.
For grilled pizza, brush a small amount of olive oil on each side of the pizza crust. Grill the crust over indirect heat for 2 minutes per side. Remove from grill. Add toppings and return to grill for 8 – 10 minutes until the cheese is melted.
Remove pizza from oven or grill and garnish with diced tomatoes before cutting and serving.
Notes
Recipe by Jazzy Gourmet Cooking Studio at http://jazzygourmetblog.com
© 2013 Sherry Klinedinst
All rights reserved. Repost with permission only.
Linked to these fabulous parties.
Join Sherry K – Jazzy Gourmet on Facebook, Pinterest, Twitter
Mom always said it is nice to share!