It's Zippy Tip Tuesday!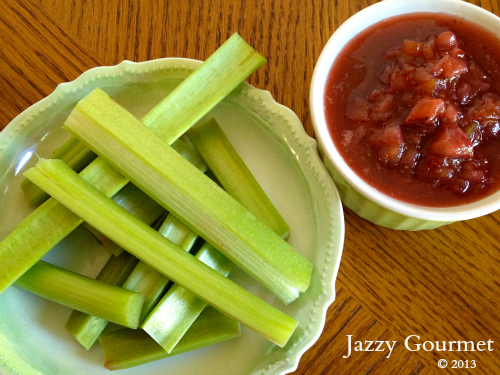 As mentioned in my Strawberry Rhubarb Crumble Parfait post, I was never really too fond of rhubarb in the past.
But because of the extreme tastiness of my neighbor Debbie's mom's strawberry rhubarb pie, and a little ingenuity on my part (plus the fact that I get it free from Dad's garden), I am finding it to be a terrific blank canvas for both sweet and savory dishes.  From sauces and muffins to toppings for fish and chicken, it is quite the versatile little vegetable (yep, it's a vegetable).
So to find out more about the juicy green/red stalk of puckery goodness, watch this video (most info from 25 Rhubarb Tips):
Can't see video?  Watch it here:  Rhubarb Basics
Join Sherry K – Jazzy Gourmet on Facebook, Pinterest, Twitter
Mom always said it is nice to share!