With Arugula Chimichurri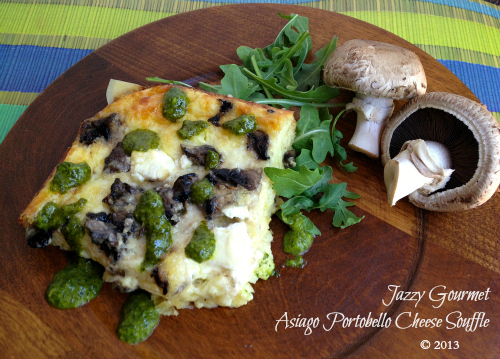 To say that I've been "wickedly" busy for the last couple of weeks would be an understatement.  Ever since I was invited to play in the pit for the local run of the national tour of the musical Wicked, I hit the ground with my feet running.
There was a mix-up in contracting, so I didn't get hired until a week before we opened.  That left me scrambling to practice my part before our Tuesday rehearsals and quick brush up before opening the show on Wednesday night.  To be a tiny part of such a massive musical production is quite exhilarating and challenging at best.  And my fellow pit mates have been nothing but helpful and supportive, which certainly helps in the whole process.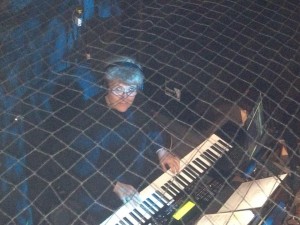 Here I am in the pit.  See that netting?  That's so that no flying monkeys swoop in on us!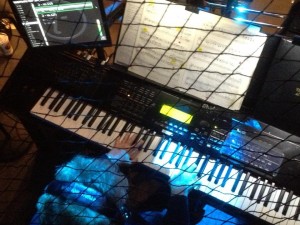 This is me sitting in front of the "747"– lots of technology involved.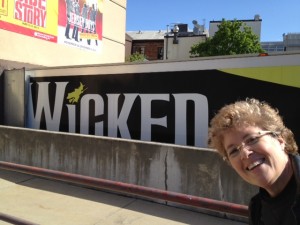 How do you get to the musical Wicked?  Practice!
So as can be imagined, I've had very little time to spend in the kitchen here lately; but once the performance schedule settled a bit, I could whip up something new.  Hence, Asiago Portabello Cheese Souffle with Arugula Chimichurri became my latest creation.  All of us cheese fans are going to swoon over this.  It's cheesy, it's garlicky (of course!), it's shroomy, and oh so comforting after having a stressful week like mine.  The phyllo dough crust is a nice added dimension, but the souffle is just as good without it, in my opinion.  And yes, it's pretty darned rich too (not all fluffy like we're used to seeing soufflés), but I've lightened it a bit where I could.  And the peppery bright zing of the arugula chimichurri really complements the full-bodied nature of the dish.
Darest I say that it is "wickedly" good!
Asiago Portobello Cheese Souffle
A rich and creamy cheesy soufflé is studded with earthy portobello mushrooms and topped with a peppery bright arugula chimichurri sauce.
Ingredients
Cheese Souffle:

6 eggs, beaten
1 cup fat free milk
8 ounces Asiago cheese, shredded
8 ounces monterey jack cheese, shredded
1½ cups low fat cottage cheese
3-4 cloves fresh garlic, chopped
½ teaspoon salt
½ cup all-purpose flour
1 teaspoon baking powder
non-stick cooking spray
6 sheets frozen phyllo dough, thawed
4 ounces portobello mushrooms, roughly chopped
3 ounces light cream cheese, cubed
3 tablespoons butter, melted

Arugula Chimichurri:

1 clove fresh garlic
2 ounces fresh arugula
¼ teaspoon salt
Juice of ½ medium lemon
¼ cup extra virgin olive oil
additional fresh arugula for garnish
Instructions
Preheat oven to 350 degrees F.
Whisk eggs and milk together in a large bowl. Stir in Asiago, monterey jack, cottage cheese, 3-4 cloves garlic and ½ teaspoon salt. Sift together flour and baking powder and add to cheese mixture.
Spray a 9 x 13-inch baking dish with cooking spray. Unfold 1 sheet of the phyllo dough and place on bottom of dish. Spray the sheet with cooking spray. Repeat the process by laying a second sheet of phyllo dough over the first sheet and spraying with cooking spray, until 6 sheets have been used. Pour cheese mixture over phyllo dough. Top with mushrooms and cream cheese. Pour melted butter over entire mixture. Bake for 50-60 minutes at 350 degrees, or until golden brown. In the meantime, put 1 clove garlic in a food processor or chopper and pulse until chopped. Add arugula, ¼ teaspoon salt and lemon juice. Slowly drizzle in olive oil while blending until combined.
Remove souffle from oven and allow to set for 8-10 minutes. Cut into 8 squares and garnish with arugula chimichurri sauce and fresh arugula.
Notes
Recipe by Jazzy Gourmet Cooking Studio at http://jazzygourmetblog.com
© 2012 Sherry Klinedinst
All rights reserved. Repost with permission only.
Linked to these 
fabulous parties
.
Featured here:
Join Sherry K – Jazzy Gourmet on Facebook, Pinterest, Twitter
Mom always said it is nice to share!