It's Zippy Tip Tuesday!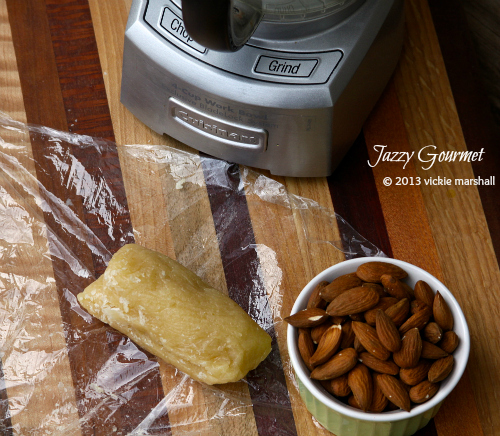 I'm all about saving a buck or 2 when I can.
So when I had to use almond paste for my Blueberry Almond Delight Bites in the Behind the Curtain Dessert Challenge a couple of weeks ago, I was rather surprised by the price of canned almond paste at the grocery store.
I decided to heck with that, I'm making my own.  And off I went to my pal Google to find out how to do it.  Although there were several renditions of the recipe, I settled on Easy Almond Paste from candy.about.com; because let's face it, they had me at "Easy".
 All the recipes I found used egg whites, so if you find yourself squeamish, just use the pasteurized egg whites in a carton.  (I buy my eggs fresh off the farm, so I never give it a second thought.)  And be sure to add a little of the white at a time, because I found the mixture to be a bit sticky.  If that happens, just add more powdered sugar till you get the texture you want.
The end result is a fresher, less crumbly, more tasty version than the canned variety.  And portion control is another benefit, since you only have to make as much as you need.
Have I got ya sold yet?
Homemade Almond Paste
Ingredients
¾ cup whole blanched almonds
¾ cup powdered sugar (sifted)
½ egg white, lightly beaten
Instructions
Place almonds and ½ of the powdered sugar in a food processor or large chopper fitted with a steel blade. Process until the nuts are finely ground. The sugar helps prevent the nuts from turning into butter, but still be careful not to over-process. Add the rest of the sugar and pulse a few times to combine. Add the egg white and continue to process until the mixture turns into a ball, which only took a few seconds for me. If it's sticky, add more powdered sugar, a little at a time. Use at once or wrap in plastic wrap and store in the refrigerator for up to 3 months. Or put wrapped almond paste in a sealed bag and freeze for up to 6 months.
Watch video here:
Having troubles seeing the video?  Watch it here:  Homemade Almond Paste
Join Sherry K – Jazzy Gourmet on Facebook, Pinterest, Twitter
Mom always said it is nice to share!