And Behind the Curtain Dessert Challenge!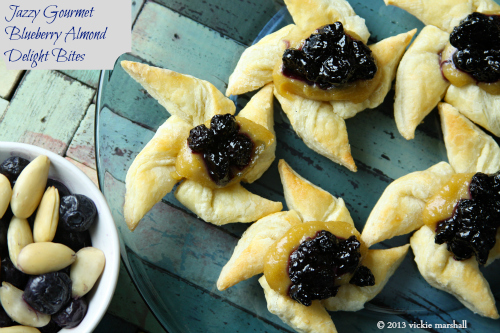 Can I tell you how good it is to eat again?  After 2 weeks of the most ferocious sore throat I have ever endured, I am ready to experience the splendor and DELIGHT of eating again.  And what a way to come back to reality than with another Dessert Challenge!
You may recall that Sheryl at Lady Behind the Curtain invited us to join her Behind the Curtain Dessert Challenge.  Each month, she has picked 2 ingredients that we are supposed to develop into a dessert.  Last month, we all made delicacies that contained cherries and chocolate.   I can't tell you how surprised I was to see all the different ways people integrated those 2 ingredients into recipes.  Want to see what I and others made?  Just click here:  Cherry/Chocolate Dessert Challenge.  If this sounds like fun, then join us next month, when the chosen ingredients are caramel and pretzels.  The complete list can be found here:  Behind the Curtain Dessert Challenge ingredient list.
Well this month is almond paste and pastry dough, and I have to say that I didn't know where to start.  I think the last time I used almond paste was 100 years ago, so I couldn't see myself using it again in the near future.  And cans of the stuff were pretty expensive at the store.  So being the curious sort that I am, I researched how to make my own.  Sure enough, it is super easy to make.  That way,  it would be fresh and I could control the amount that I wanted to have on hand.  The tedious part was blanching the almonds to remove the skins.  I think I predict a Zippy Tip on that one in my future!
So the final product ended up being Blueberry Almond Delight Bites–a uniquely shaped, fun little puff pastry bite with a built-in handle to pick up and snarf with…well…delight!
(Want to see all the Dessert Challenge entries?  Just scroll down to the bottom of this post to see the links to some great recipes and the talented people who have created them!)
Blueberry Almond Delight Bites
Ingredients
Almond Custard--
1 egg yolk, lightly beaten
1 tablespoon all-purpose flour
2 tablespoons firmly packed brown sugar
2 tablespoons almond paste (use store-bought or make your own, using the recipe below)
½ cup milk
Blueberry Topping--
1 tablespoon cornstarch
½ cup granulated sugar
2 cups fresh or frozen (and thawed) blueberries
2 tablespoons fresh lemon juice
½ of a 17.3-ounce package puff pastry sheets (1 sheet), thawed
1 tablespoon milk
1 tablespoon coarse sugar
Instructions
For almond custard, make a paste of the egg yolk, flour, brown sugar, almond paste and small amount of the milk in a heavy medium saucepan. In a microwave-safe bowl, heat remaining milk 1 minute. Slowly add milk to the egg mixture and, stirring constantly, cook over medium low heat 7-10 minutes or until thick (mixture will thicken more as it cools). Pour custard into a medium bowl, then press plastic wrap directly onto its surface, to eliminate a skin. Refrigerate until ready to use.
In a medium saucepan, combine cornstarch and sugar. Add blueberries and lemon juice. Combine well. Bring mixture to a boil and cook a few minutes, stirring occasionally, until thickened. Remove from heat and set aside to cool (mixture will thicken more as it cools).
Heat oven to 350˚F. Unfold the pastry sheet onto a lightly floured surface. With a sharp knife, cut dough into 16 squares. Place squares on a parchment lined baking sheet. Starting with one square, cut diagonal lines from within ½ inch of the center to each corner. Fold every other corner to the center of the square, overlapping the points, and pinch to seal. Repeat with remaining squares. Brush each with milk and sprinkle with coarse sugar. Bake in a 350˚F oven for 15 minutes, or until the pastry is golden brown.
Remove from the oven. While still hot, push down on the center of each pastry bite with the back of a spoon to create an indentation. Transfer to a wire rack to cool. Top with almond custard, followed by blueberry topping.
Eat delightfully.
Notes
Almond Paste
(from
candy.about.com
)
¾ cup whole blanched almonds
¾ cup powdered sugar (sifted)
½ egg white, lightly beaten
Place almonds and ½ of the powdered sugar in a food processor or large chopper fitted with a steel blade. Process until the nuts are finely ground. The sugar helps prevent the nuts from turning into butter, but still be careful not to over-process. Add the rest of the sugar and pulse a few times to combine. Add the egg white and and continue to process until the mixture turns into a ball, which only took a few seconds for me. If it's sticky, add more powdered sugar, a little at a time. Use at once or wrap in plastic wrap and store in the refrigerator for up to 3 months. Or put wrapped almond paste in a sealed bag and freeze for up to 6 months. Makes about 1¼ cups
Watch video here:
Having troubles seeing the video?  Watch it here:  Blueberry Almond Delight Bites
Linked to these fabulous parties.
Join Sherry K – Jazzy Gourmet on Facebook, Pinterest, Twitter
Mom always said it is nice to share!