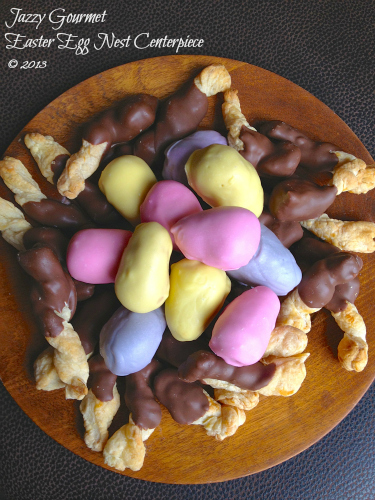 Every Easter, we head down to my aunt's house for a huge feast.  She really puts on a spread, complete with spiral ham, slow- cooker cheesy scalloped taters, asparagus casserole, and a huge array of desserts:  carrot cake, German chocolate cake, pineapple chess pie,  cherry cheesecake, the works!
Then we're expected to recoup from all that indulging by getting up from the table, moseying out to the yard and hiding Easter eggs for the kids.  My one cousin has all the kids in the family, and she fills a dozen of those plastic eggs for EACH child with candy, money, etc.  Each kid is assigned a certain colored egg, and each of us is assigned a dozen eggs to hide for one child.  It was easier when the kids were little; but the older they get, the more difficult the hiding places have become.  That means there is much pressure remembering where we hid the eggs.  Imagine recalling the hiding places of 12 eggs while under the influence of an Easter feast-induced  brain slosh!   And it doesn't help that as the kids get older, their motivation to find the eggs is influenced by the "I'm too cool to do this" syndrome.  Needless to say, some of the eggs end up finding a permanent home in their superbly innovative hiding place.  At least it isn't like the good ol' days when the Easter Bunny would hide real eggs for my brother and me.  Then when an egg went undiscovered, it became VERY apparent a few weeks later by its rather odiferous bidding!
Anyhoo, back to the food.  I usually take my Peanut Butter Caramel Chewy Easter Egg Nests.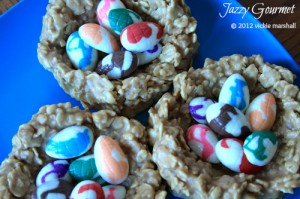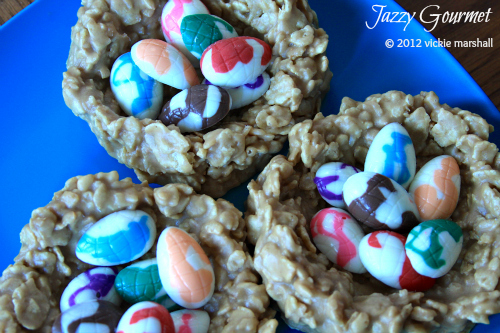 But I'm changing it up this year by bringing an edible Easter Egg Nest Centerpiece.  I started the nest by dipping puff pastry twists into chocolate to form "twigs".  Then I shaped eggs from a basic Buckeye recipe, with Rice Krispies® thrown in for crunch, and covered them in pastel colored white chocolate.
Hidden or not, I'm pretty sure THESE eggs will not be abandoned or lost!
Easter Egg Nest Centerpiece
Inspired by Buckeyes
Ingredients
4 tablespoons (1/2 stick) butter
1 cup creamy peanut butter
1 cup powdered sugar
½ teaspoon vanilla
2 cups Rice Krispies® cereal
½ of a 17.3-ounce package puff pastry sheets (1 sheet), thawed
2 tablespoons milk
2 tablespoons coarse salt (optional)
6 ounces melted chocolate or candy melts
12 ounces melted white chocolate or candy melts
food coloring (such as pink, yellow, purple)
Instructions
Combine butter, peanut butter, powdered sugar and vanilla in a medium bowl. Add Rice Krispies® and mix well. Roll into walnut sized balls. Then roll one side of the ball between your palms to form an egg shape (see video). Place on a waxed paper lined baking sheet and chill, uncovered, at least 4 hours.*
While eggs are chilling, heat oven to 350˚F. Unfold the pastry sheet onto a lightly floured surface. With a sharp knife, cut the pastry into 3-inch strips that are about ¾-inch wide. Twist the strips and place on a parchment lined baking sheet. Brush with milk and coarse salt (if desired). Bake at 350˚ for 15 minutes, or until golden. Remove from the oven and transfer to a wire rack to cool.
When twists have cooled, dip ½ of each one in chocolate and place on waxed paper to set.
Add various food colorings to white chocolate. Dip peanut butter eggs in colored chocolate and place back on the waxed paper to set.
Arrange the nests with the puff pastry twists (twigs) on the bottom and the eggs on top.
Makes 24 eggs and 36 twigs
Notes
If mixture is too sticky, add more powdered sugar. If mixture is too dry, add more peanut butter.
Watch video here:
Having troubles seeing the video?  Watch it here:  Easter Egg Nest Centerpiece
Linked to these fabulous parties.
Join Sherry K – Jazzy Gourmet on Facebook, Pinterest, Twitter
Mom always said it is nice to share!