It's Zippy Tip Tuesday!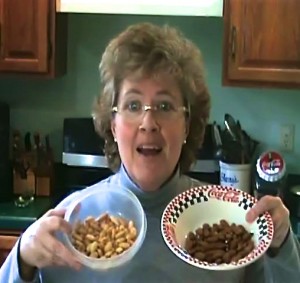 A couple of weeks ago, I needed some blanched almonds to make almond paste for my Blueberry Almond Delight Bites.  I didn't have blanched almonds in the house, but I did have whole raw almonds.
So I decided just to blanch my own.
I had never done it before, but I figured, how hard could it be?  Sure enough, it wasn't hard at all!  It was a bit time-consuming; but I just sat down to watch an episode of Chopped, and the job was done before I knew it.
All the tutorials out there say to be sure to leave the nuts in water for no more than a minute; but I found that the skins came off easier when I left them in for 1 1/2 minutes.
Later, I compared the prices of whole and blanched almonds at the store and blanched were somewhat pricier.  So if price is a consideration, and there's an episode of a favorite show on the DVR, I'd say go for it!
Watch video here:
Can't see video?  Watch it here:  Blanching Almonds
Join Sherry K – Jazzy Gourmet on Facebook, Pinterest, Twitter
Mom always said it is nice to share!