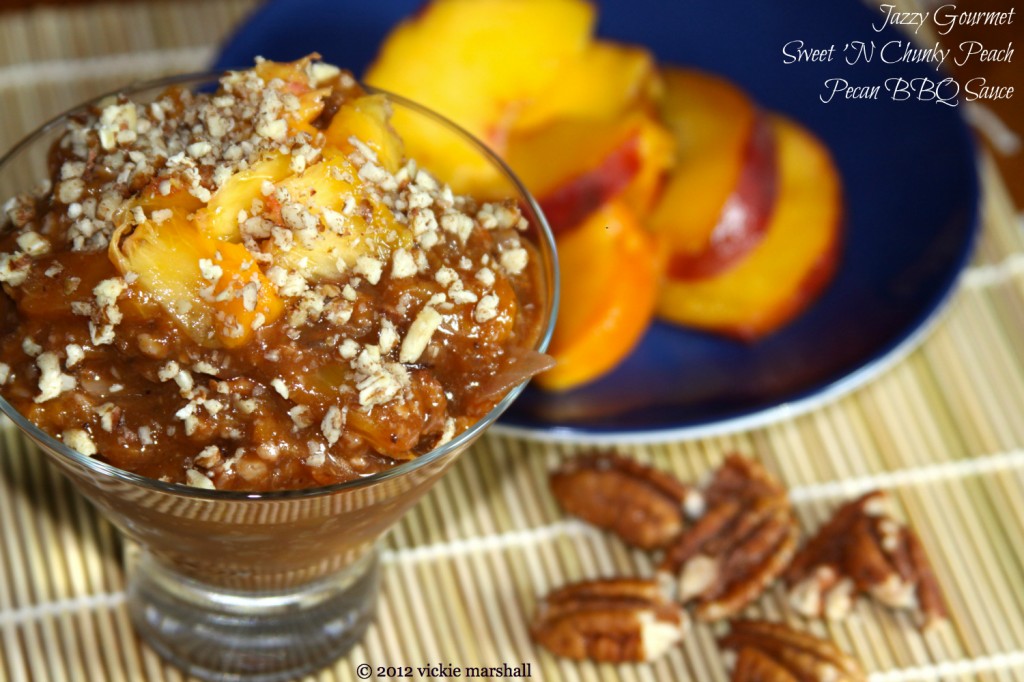 I love me some Q.
I'll admit it.
From Texas to Memphis to KC, I could just Q myself across the country.
And I don't limit my BBQ infatuation to big slabs of ribs, brisket and shoulder either.
Slather up some salmon or scallops, maybe some green beans or a chicken salad, and I am a happy camper.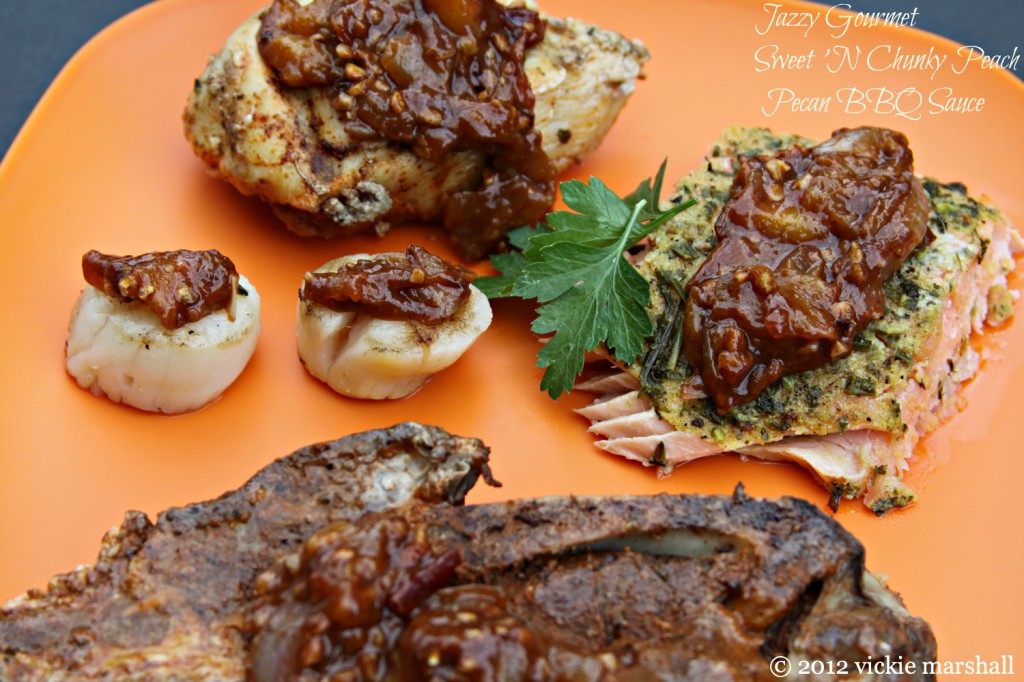 And while it's not unusual for me to simmer a huge pot of from-scratch sauce, made with a couple dozen or more ingredients, I think it's fun every once in a while to "jazz up" a good bottled sauce.
Now naysayers of sweet sauces, don't hate!  Just make sure you start with a heat-filled, kick butt sauce to balance out the fruity/maple-y additions.  You'll be good to go!
Sweet 'N Chunky Peach Pecan BBQ Sauce
Sweet peaches, crunchy pecans and maple syrup jazz up spicy BBQ sauce to make a versatile topping for everything from ribs and brisket to salmon and scallops.
Instructions
In a medium skillet, heat oil over medium heat. Add onion and saute, stirring frequently, until tender, about 7-10 minutes.
Add garlic and peaches and continue to cook for 2 more minutes. Add BBQ sauce, maple syrup and pumpkin pie spice. Reduce heat to medium low, and continue to simmer, stirring occasionally, for 10 more minutes or until mixture thickens to desired consistency. Remove from heat and stir in pecans.
Serve warm or at room temperature on everything from pork and chicken to burgers and salmon.
Notes
Recipe by Jazzy Gourmet Cooking Studio at http://jazzygourmetblog.com
© 2013 Sherry Klinedinst
All rights reserved. Repost with permission only.
Watch video here:
Can't see video?  Watch it here:  Sweet 'N Chunky Peach Pecan BBQ Sauce
Linked to some of these 
fabulous parties
.Join Sherry K – Jazzy Gourmet on 
Facebook
, 
Pinterest
, 
Twitter
Mom always said it is nice to share!