It's Zippy Tip Tuesday!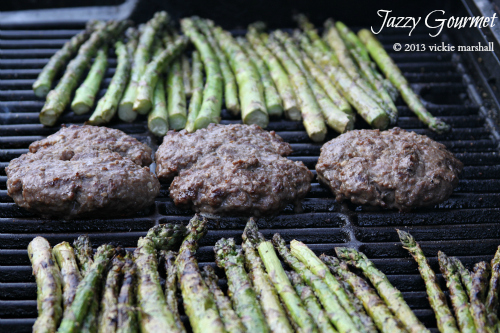 Ever since I was a kid, a sure sign of spring would be when Dad brought in bundles of asparagus from the garden and laid them on the kitchen counter.  Mom would always prepare them the same way–boiled senseless (sorry Mom!) and covered in cheese sauce.  I know for a fact that my plate would fashion an extraordinarily unbalanced ratio of cheese to asparagus; but it got me to eat them, so mission accomplished.  Invariably, I would end up with a "clinker"–a wad of woody, unpalatable, stringy mass that would make its way back on my plate.
Gosh, describing that whole scenario kind of makes me wonder why I love asparagus today, but I do.
My favorite way to prepare asparagus is to grill it, with nothing more than olive oil and salt. Rather than buying it in bundles, I go to places where I can purchase it in bulk. That way, I can stand there and personally pick out each individual stalk that appeals to me.  I'm sure it annoys the heck out of those who are waiting to fill their bags, but I don't care.  The more time I spend picking out the tender stalks, the less waste I have when it comes to cutting off the tough ends.
So, for tips on choosing, storing and preparing this grassy, earthy green delight, just watch the video below.  And if you want some awesome asparagus recipes, click on any of these links:
Savory Ham and Swiss Cornbread Bake (Jazzy Gourmet)
Asparagus and Goat Cheese Tart (James & Everett)
Roasted Asparagus, Bacon and Gouda Omelet (Sumptuous Spoonfuls)
Watch video here:
Having trouble seeing the video?  Watch it here:  Asparagus 101
Join Sherry K – Jazzy Gourmet on Facebook, Pinterest, Twitter
Mom always said it is nice to share!