It's Zippy Tip Tuesday!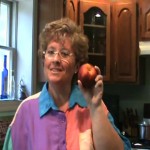 There are few things more utterly aromatic than peaches.
The smell of a beautifully glowing, golden reddish blush-colored, perfectly ripe peach is enough to raise many a serotonin level.
They need to invent scratch 'n sniff computers, so that we can all share in the magnificent fruity glow.  
BUT!  
There is also nothing more frustrating than trying to PEEL a peach.  And that, my friends, is where this video comes in very handy.  
Take a gander:  
Can't see video?  Watch it here:  How to Peel a Peach
Mom always said it is nice to share!