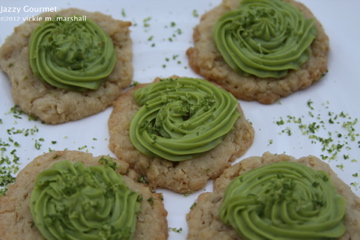 A few years ago, I watched an episode of "Good Eats", where Alton Brown made avocado ice cream. Up until that time, I had never seen anything but savory applications for the delectable and nutritious fruit (yes, fruit, because of the "seed" or pit in the middle).
So I began experimenting on my own.  Starting with the classic potato chip cookie recipe I used to make as a kid, I thought it would be fun to use tortilla chips instead, playing on a sort of "guacamole and chips" type theme.  Most of my friends and family approached the idea with trepidation.  "Guacamole on a cookie!?"  I assured them that I did not use guacamole in the frosting, but just the avocado and lime juice.   Needless to say, these crunchy cookies, with their silky avocado cream cheese frosting, have been a favorite Cinco de Mayo tradition ever since.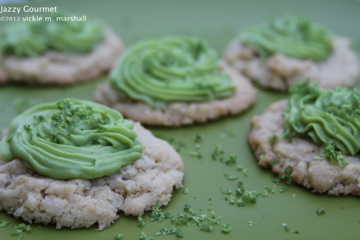 If you want a more flat/delicate cookie, just eliminate the parchment paper and bake on an ungreased cookie sheet.  And believe it or not, that beautiful green color lasts a long time, with the addition of the lime juice.  Be sure to zest the lime first, because that's what gives these cookies a real pop.
Crunchy Tortilla Chip Cookies with Avocado Frosting
Perfect for Cinco de Mayo, these crunchy cookies are a great combination with their smooth, silky avocado cream cheese frosting. Now you can make them too!
Ingredients
1 cup (2 sticks) butter, softened
¼ cup sugar
¼ cup brown sugar
1 egg yolk
1 teaspoon vanilla
1½ cups all-purpose flour
1 cup crushed tortilla chips
1 cup mashed ripe avocado
2 ounces cream cheese, softened
½ cup powdered sugar
2 teaspoons lime juice
⅛ teaspoon salt
zest of 2 limes
Instructions
Preheat oven to 350 degrees F.
In a large bowl, cream together butter and sugars with an electric mixer. Add egg yolk and vanilla and combine well. Stir in flour and tortilla chips. Drop by teaspoon 1 inch apart onto a parchment lined baking sheet and flatten slightly. Bake at 350 degrees F. for 11-14 minutes, or until edges start to become golden brown.
In the meantime, combine avocado, cream cheese, powdered sugar, lime juice and salt in a small bowl. Set aside.
Allow cookies to cool on cookie sheet 2 minutes before transferring to a wire rack to cool completely. Frost cookies with avocado mixture, top with zest and serve immediately.
Notes
Recipe by Jazzy Gourmet Cooking Studio at http://jazzygourmetblog.com
© 2012 Sherry Klinedinst
All rights reserved. Repost with permission only.
If you'd like to see a less-than-stellar approach to removing a pit from an avocado, watch this video:

 
Can't see the video?  Watch it here:  Avocado Mayhem
How have you used avocados in desserts?
Linked to some of these 
fabulous parties
.
Join Sherry K – Jazzy Gourmet on Facebook, Pinterest, Twitter
Mom always said it is nice to share!