It's Zippy Tip Tuesday!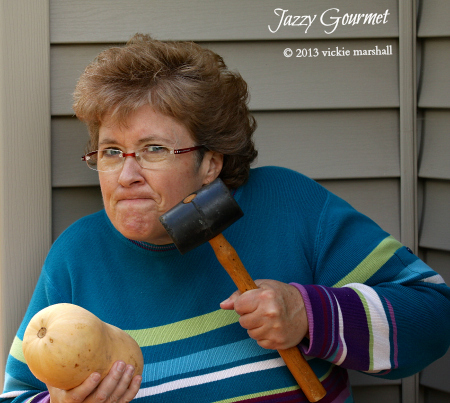 If you've ever tried to crack into a butternut squash, you know that it can seem like quite a daunting task.
The outer shell is extremely rock-like.  And its odd, roly poly, irregular shape is not what you'd call user-friendly on a cutting board.  So one has to ask oneself, what powerful tool should be used to obtain access to that smooth sweet nutty interior?
Crowbar?   Sledgehammer?  TNT?
Believe it or not, there are a couple of common kitchen staples that can take you from woefully bashing to gleefully gliding your way through this very popular squash.  It's true!
Watch video here:
Can't see video?
Watch it here:  The Easy Way to Peel Butternut Squash
Linked to these fabulous parties.
Join Sherry K – Jazzy Gourmet on Facebook, Pinterest, Twitter
Mom always said it is nice to share!