It's Zippy Tip Tuesday!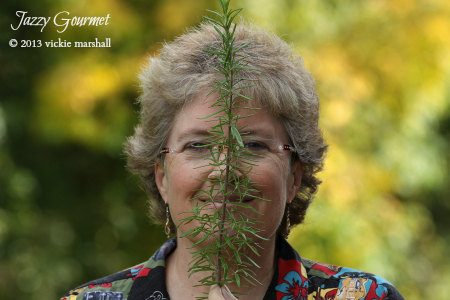 One day, my friend Irene said, "You know, I would really like it if you would feature individual herbs or spices in your zippy tips.  I see them in the grocery store, and I have no idea what to do with them."    That sparked some very good questions–how do we know what ingredients pair nicely with certain herbs?  In what cuisines are certain spices most popular?  How do we know what herbs marry well with other herbs?  How do we make herb-infused oil?
So I thought it would be good to start with rosemary.  It's popular, it's available all year long, it's versatile; and most importantly, I happen to have some growing out on my deck to show us!  Plus, a little rosemary can go a long way, so it's economical too!
Therefore, today's zippy tip video shows us how to de-stem, chop, and use whole sprigs of fresh rosemary, in everything from salads and chicken to lemonade and infused olive oil.
For more rosemary info, visit:  How to Use Rosemary in Cooking
Do you have an herb or spice you would like to see featured as a Zippy Tip?
Watch video here:
Can't see video?  Watch it here: Love Goes Where Rosemary Grows
Linked to these fabulous parties.
Join Sherry K – Jazzy Gourmet on Facebook, Pinterest, Twitter
Mom always said it is nice to share!