Got Spaghetti Squash?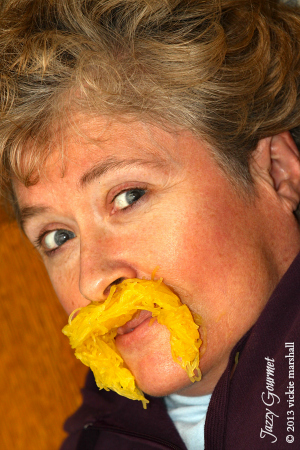 Fall is officially upon us, which means that squash are plentiful right now.  And with recipes like my Spaghetti Squash Pad Thai, and the latest S'ghetti-Q Squash, I thought it might be a good idea to review my video on preparing the noodle-like squash.
When you first look at any kind of squash, it certainly can seem intimidating.  I think the tendency is to ask:
What in the heck do I do with this thing?   How do I even bust into it?
With its rock-hard exterior, it would appear that a chisel and/or sledgehammer might be warranted–but not true!
Here's a vintage Jazzy Gourmet video showing that the process isn't as difficult as it may seem.
Upon viewing it again after a whole year, I discovered that (besides my hair being fluffier) I was a lot more serious back then.  Perhaps my exterior needed a little chiseling as well!
Watch video here:
Can't see video?  Watch it here: How to Prepare Spaghetti Squash
Linked to these fabulous parties.
Join Sherry K – Jazzy Gourmet on Facebook, Pinterest, Twitter
Mom always said it is nice to share!