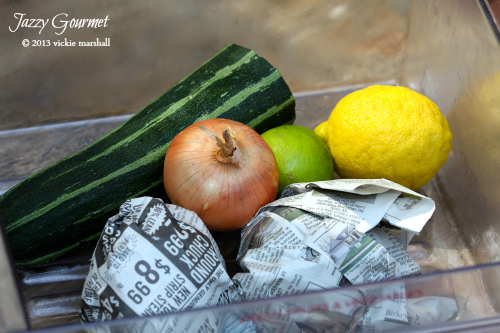 Last week, I spoke about my friend Loanna from church who graced me with those delightfully luscious Vidalia onions, which I promptly used in my Hot Peach Vidalia Cheese Spread.  In our conversation, she told me how her daughter had brought a 50 lb. bag from Georgia, and she needed to find a good home for some of them.  I mentioned the trouble I've had in the past with keeping large amounts of Vidalia onions from rotting, and she told me her son-in-law gave her a great tip:
Wrap the onions in newspaper, stick them in the vegetable bin of the fridge, and they'll last a LONG time.
Now, I can't really attest to this tip, since I have had mine in the fridge for only a week now, but Loanna says they last several months.  And Loanna wouldn't lie!
Watch video here:
Can't see video?  Watch it here:  Storing Vidalia Onions
Join Sherry K – Jazzy Gourmet on Facebook, Pinterest, Twitter
Mom always said it is nice to share!