It's Zippy Tip Tuesday!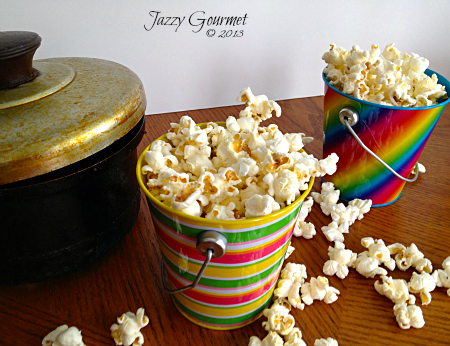 Want the perfect pop?
I recently held a poll on my Facebook page, asking folks if they preferred stovetop popcorn or the microwave variety.  More than 50% said they preferred microwave, because of the convenience.
 I agree that it's more convenient to pop something in the microwave (especially at the workplace); but hands down, I believe it is much tastier to pop it on the stove.  And if you have a "well-seasoned" popcorn pan, such as the one I've owned since college, then there's no contest when it comes to flavor.  See it in the photo?  It's a dandy!
Plus, I just recently read that the chemicals used in making microwave popcorn bags can be harmful to our health.   AND, I have to say that it takes me probably all of 5 minutes to whip up a batch, so there goes the convenience theory.
There's still the no-stove-at-the-workplace dilemma.  Hmm, I know!  Make it the night before and take it to work in a bag or plastic container!  I tell ya, there's an answer for everything.
And what do we like to put on our popcorn?  Sometimes I like to do a standard butter/sea salt combo.  But I've been known to include:  coconut oil, blood orange infused olive oil, truffle oil, grated cheese, curry powder, italian seasoning, chili powder, garlic (of course!), jerk seasoning–I do believe the choices are infinite.
So how do I achieve the perfect pop?  I guess you'll have to watch the video to find out.  Oh and BTW, I've been holding Zippy Tip Tuesday parties on Facebook, where the theme each week matches the Zippy Tip.  So today, various talented bloggers will be sharing their popcorn recipes for us all to check out.  I have also created a Popcorn Board on Pinterest, where I will be pinning all of everyone's marvelous creations.  Some previous Zippy Tip Tuesday Boards include:
So come to my Facebook page and join the fun!
What are your favorite popcorn toppings?
Watch video here:
Having troubles seeing the video?  Watch it here:  How to Pop Perfect Popcorn
Join Sherry K – Jazzy Gourmet on Facebook, Pinterest, Twitter
Mom always said it is nice to share!