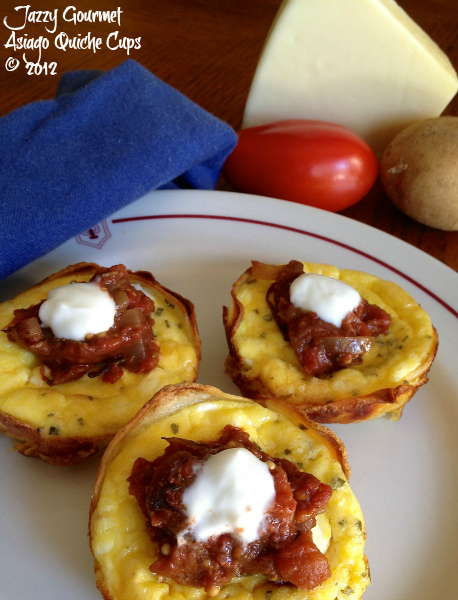 My friend Bud, our very special spud, is going to help me introduce my recipe for today.  While some people discover zucchini shaped like Elvis, or peppers shaped like Oscar the Grouch, we found Bud in Dad's garden.
Bud's become a regular member of our family.  He keeps me company when I work in the kitchen, and he gets along great with our other kids, Ella and Gracie.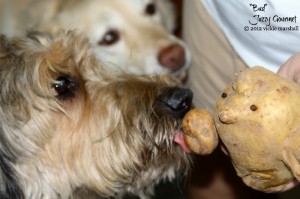 Ella loves giving him kisses.
But I think bud was a little leery when I started to develop this next dish.
Asiago Quiche Cups with Tomato Jam make a great appetizer or side dish for any meal.  I started with thinly sliced potatoes formed into cups.  Then I loaded the cups with a luscious cheesy quiche filling, topped with tangy tomato jam.
The mandoline slicer is a great kitchen gadget to get the potatoes sliced paper thin. Just be careful with it though, by always using the safety holder to keep your hands away from the blade.  I made it through the whole slicing process with nary a nick, only to cut myself when I was washing the darn thing!
But these little cups are worth all the peril.   Bud says they are so good, you might not be able to eat just one!
Asiago Quiche Cups
Thinly sliced potatoes formed into cups, then loaded with a luscious cheesy quiche filling, topped with tangy tomato jam and sour cream.
Ingredients
Tomato Jam:
1 teaspoon olive oil
¼ cup chopped onion
1 large tomato, peeled and chopped
½ teaspoon mustard seed
½ teaspoon dried thyme
½ teaspoon cinnamon
½ tablespoon molasses
1 tablespoon red wine vinegar
a pinch of chili pepper flakes
a pinch of salt
Asiago Quiche Cups:
Instructions
For the jam, heat a small saucepan to medium high heat. Add 1 teaspoon olive oil. When the oil begins to shimmer, add the onions and cook for a few minutes until tender. Stir in the tomato, mustard seed, thyme, cinnamon, molasses, vinegar, chili pepper flakes and pinch of salt. Turn the heat down to low and simmer until the mixture reduces and becomes thick, about 40-50 minutes.
Preheat your oven to 375 degrees F. While the jam simmers, start making the cups by slicing the potato thinly on a mandolin. Toss the slices with 2 teaspoons olive oil and ¼ teaspoon salt. Spray cooking spray onto 8 cups of a 12-cup muffin pan. Divide the potato slices evenly into each of the 8 cups, arranging them to form the outline of the cup. Place in a 375 oven for 15 minutes.
In the meantime, place cream, eggs, cream cheese, asiago cheese, rosemary, ¼ teaspoon salt and pepper in a medium bowl and whisk thoroughly. When the potato cups have cooked for 15 minutes, remove them from the oven and ladle the egg/cheese mixture evenly into each of the 8 cups. This also makes a good time to rearrange the potato slices in the cups, since they are more pliable. Return to the oven and cook for an additional 20-25 minutes, or until golden and puffy.
Remove cups from the oven and garnish with Tomato Jam and sour cream. Serve immediately.
Watch video here:
Can't see video?  Watch it here:  Asiago Quiche Cups
Linked to these fabulous parties.
Join Sherry K – Jazzy Gourmet on Facebook, Pinterest, Twitter
Mom always said it is nice to share!