It's Zippy Tip Tuesday!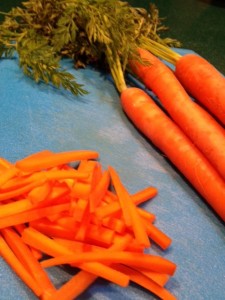 She slices, she dices, she even juliennes!
 And now for the low low price of zero, zilch, nada, you can watch this video of The Jazzy Gourmet showing how to julienne a carrot.  
But wait!  
If you act before midnight tonight, you can watch both "How to Julienne a Carrot" AND "Tearlessly Chop Onions" for the same low low price!
 That's TWO videos for the price of one!
 Such a deal, such a deal.  
Watch video here:
Can't see video?  Watch it here: How to Julienne a Carrot
Mom always said it is nice to share!