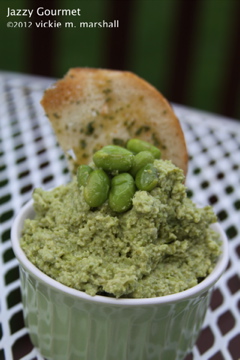 I must confess that I am not a bean lover.  It's definitely a texture thing.   I could gladly eat green beans any day, but when it comes to navy or kidney or (God forbid) lima, I nearly gag at the thought of it.
 I worked at Taco Bell one summer in college.   What was my duty?  To make the refried beans.  Mercy, how did I make it through the summer?  
And garbanzo beans are no exception.  So imagine my elation when I discovered the glory and splendor that is edamame!  
Eda-who, you say?  
A wonderful little soybean, the delicious legume is chocked full of fiber, protein and vitamins/minerals.   But best of all, it has a different texture than the aforementioned beans, and makes one heck of a good hummus!
Beware that this recipe does include raw garlic though, so be sure to carry gum with you!
Edamame Hummus
Edamame is a versatile little legume, and chocked full of protein, fiber and vitamins/minerals. It makes a tasty and unique hummus.
Recipe type:
Dips and Spreads
Instructions
Place edamame, garlic, red wine vinegar, soy sauce, salt and Sriracha in a food processor. Pulse a few times to grind the mixture. While drizzling in the olive oil, run the processor until well blended (may be slightly chunky, if desired). Transfer mixture to a serving bowl. Garnish with whole edamame. Serve with crackers, pita bread or fresh veggies.
Notes
Recipe by Jazzy Gourmet Cooking Studio at http://jazzygourmetblog.com
© 2012 Sherry Klinedinst
All rights reserved. Repost with permission only.
Watch video here:
Can't see video?  Watch it here:  Edamame Hummus
Linked to these fabulous parties.
Join Sherry K – Jazzy Gourmet on Facebook, Pinterest, Twitter
Mom always said it is nice to share!